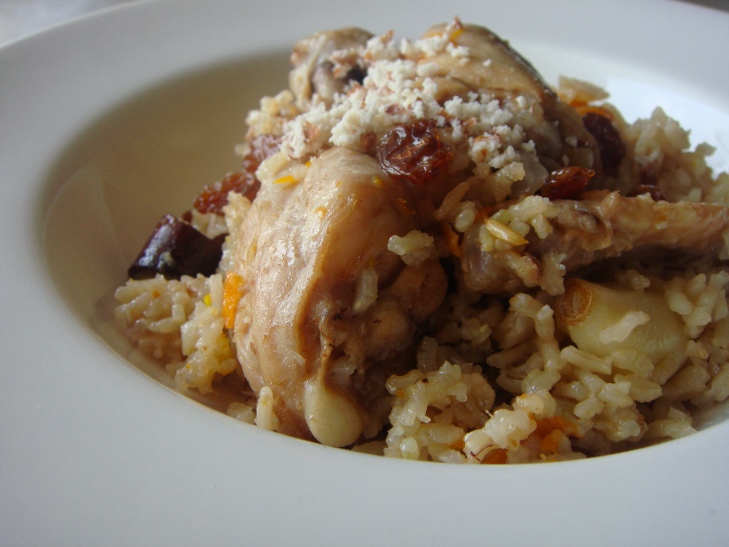 Rushing for time today, I decided to cook Chicken Kabsa. Learnt this recipe from Arabic friend, and it has been one of my favourite dishes to cook, because it's so quick and delish!
Kabsa is an Arabic favorite rice dish popular in many Gulf countries such as Kuwait, Saudi Arabia, Bahrain, Qatar, and United Arab Emirates. Because Kabsa is really delicious, it became famous dish in Jordan, Lebanon, Syria and Egypt
This is a chicken version of the Kabsa recipe, Shannon's SIMPLIFIED version 🙂 The traditional recipe requires tomato, but I omitted in my recipe because I prefer the taste without it. And I use brown rice, instead of white rice. When cooking brown rice, try to soak the rice for 1 hour before cooking. Or if you are like me, deciding to cook this recipe in the spur of the moment, add double the amount of water.
You can also replace chicken with Beef or Lamb Shoulder, the aroma of the red meat blended with the rice is is so good too!
Chicken Kabsa - Arabic Rice Dish
Kabsa is an Arabic favorite rice dish in many Gulf countries. This is my simplified recipe for Chicken Kabsa - a 1 dish meal
Recipe type:
Main, 1 Dish Meal
Ingredients
2 Tablespoon Olive Oil
Half chicken, cut up
1 medium onion, chopped
5 garlic cloves
1 small carrot, grated
grated peel of 1 orange
3 whole cloves
3 cardamom pods
1 star anise
1 cinnamon stick
4 white pepper
Salt and freshly ground pepper to taste
1 cup water
1 cup brown rice
¼ cup raisins
¼ cup ground almonds


Instructions
Sauté onion in the pot with oil until tender and slightly brown.
Add chicken pieces and saute until brown.

When the chicken starts to brown, add tomatoes, carrots, orange peel, cloves, cardamom, cinnamon stick, salt and pepper. Cook for 1 minute.
Add in rice, stir for 1 minute. Stirring the rice in the heat makes it more fragrant. Then add in water.

Reduce heat and cover. Simmer over low heat for about 20 minutes until water has been absorbed. You have to be on watch because sometimes the dish get burn if the water runs out fast. As the water gets dried, sometimes I get distracted and the fire burn the base of the rice! Of course the bottom will be crispy, but it's a hassle to scrub the pot later (not my favourite thing to do)
When water has been absorbed, switch off the fire and add in the grated orange zest. Cover the pot for 5 minutes so the vapour from the dish makes the rice fluffy.
Garnish with raisins and almonds.