2011 has been an amazing and blessed year for me, as it has been for you. I am honoured to have received positive feedback from you the readers and thank you for your support! I will continue my best to share healthy, easy and delish goodies and there will be exciting new features for this site.
A while back, I was given a box of fresh cherries and I froze some in my freezer. As the weather starts to get hotter end of the year, frozen yogurt with those cherries would be perfect on these hot days. I saw Jamie Oliver made frozen yogurt with mix berries in 30 mins (in Jamie's 30mins Meal), so I gave it a try with a small batch. What goes best with Cherries? Chocolate of course! Using my homemade yogurt, I made this Cherry Chocolate Frozen Yogurt.

Any fruits can be used; the trick is to freeze the fruits first. This method does not require an ice cream maker and tastes best the same day it's made. The longer this frozen yogurt freezes, the more crystallized it become – it turn into ice. Thus, this homemade frozen yogurt is best eaten immediately or within 1-2 days. This is an easy dessert that can be prepared a few hours before your guests arrived, they will be very impressed!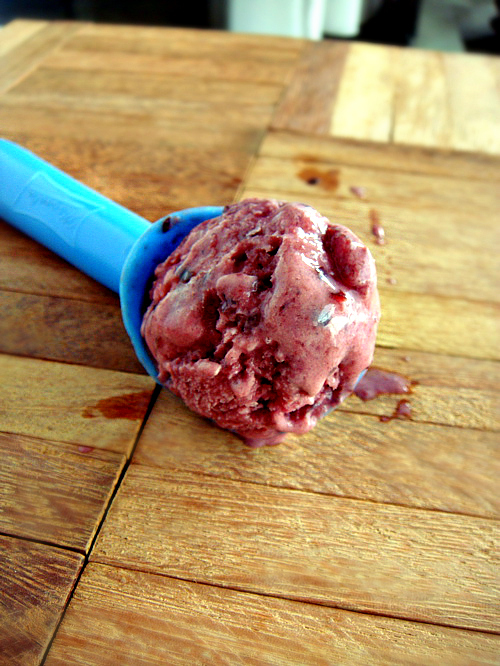 May your 2012 be filled with joy, love & good health!
Cherry Chocolate Frozen Yogurt
Easy Homemade Cherry Chocolate Frozen Yogurt without ice cream maker. Can substitute with any fruits, the trick is to use frozen fruits
Author:
Inspired by Jamie Oliver's 30 Minute Meals
Ingredients
200ml Plain Yogurt
100g pitted frozen Cherries
2 Tablespoon Raw Honey (or more to your liking)
50g Semi Bitter Chocolate - roughly chopped
Instructions
Place yogurt, cherries, and raw honey in the blender and blend until mix completely. Pour mixture into freezer proof container and add chopped chocolate and gently stir with a spoon to distribute the chocolate into the mixture. (To avoid the chocolate from sinking to the bottom of the container)
Put into the freezer for at least 1 hour.
If the frozen yogurt has been left frozen for long hours, let it thaw at room temperature for 1 minute before scooping to serve.