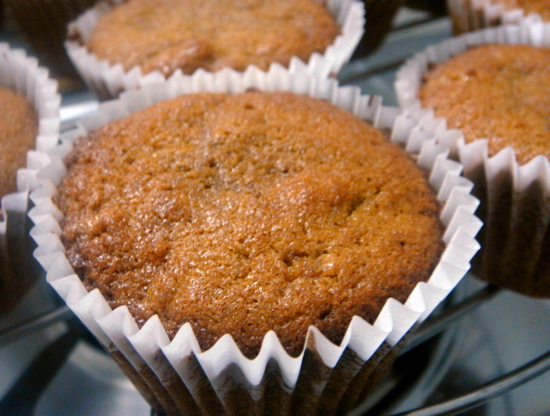 This Cempedak Cupcake recipe is scheduled to be posted 2 days ago, as part of the Tropical Fruits Recipe week. However, work has been super hectic. By the time I can breath and take a rest, it's already late night and I choose to take a much needed rest instead of blogging. Although it has only been more than a month since this blog is launched, I am still trying to get into the momentum of blogging. Don't get me wrong, I am loving every minute of cooking, trying out new recipes, blogging and making new friends in the blogging community. The hardest for me is writing because the sentences does not flow out so easily, sometimes it takes me 2-3 hours to complete a post.. phew.. I salute my new found blogger friends who are posting everyday! Nevertheless, I AM LOVING IT!
Early January this year, I saw a new fruit species – Cempedak Durian (it's a mix between Cempedak & Durian species), as seen on the right. The flesh is so fragrant and sweet, that I decided to try to make cupcakes with it. The result – overwhelming response  from friends who kept asking me to bake these delicious cupcakes.
As Cempedak is a fruit seasonal, I only manage to buy them in August and bake them now.
'Cempedak' is a fruit native to South East Asia found predominantly in Malaysia and Thailand.  It is closely related to the Jackfruit ~ 'Nangka' and like the Jackfruit it'll also excrete a sticky substance when opened. The yellow flesh is very sweet and cempedak produces a strong, lingering sweet smell. The sweet fleshy pulp and the thinner membrane on the right can also be eaten. Other than eating this fruit fresh or using it as an ingredient for baking, another way is to make them into fritters, dip them in a batter and deep fry them. This way the seeds can be eaten too!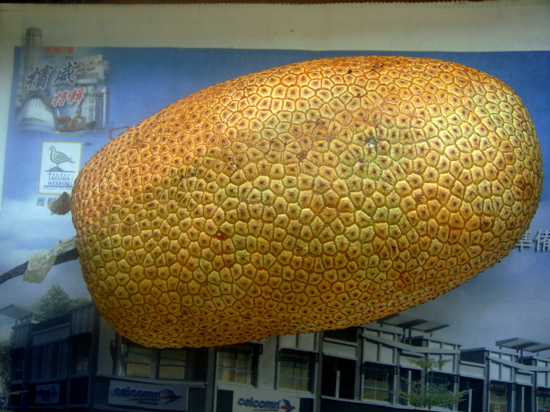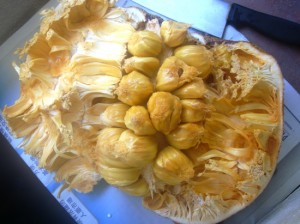 The whole Cempedak fruit. Make a cut in the centre of the fruit and open it  up with your bare hands.  Remember to oil your hands first because of the sticky substance.  See the fleshy pulp  ………..  absolutely sweet and fragrant!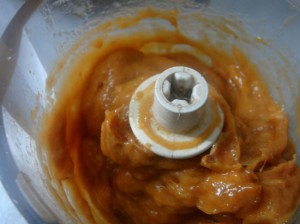 CEMPEDAK CAKE
Makes 12 cupcakes or 1 8″-cake
100g (1/2 cup) butter
50g (1/4 cup) brown sugar
2 eggs
150g (3/4 cup) wheat flour
1 teaspoon baking powder
1 pinch salt
100g (1/2 cup) cempedak puree (blend the cempedak flesh)

1.Preheat the oven to 350 degrees F (175 degrees C). Line a cupcake pan with paper liners.
2. Shift / combine flour, baking powder and salt in a medium bowl.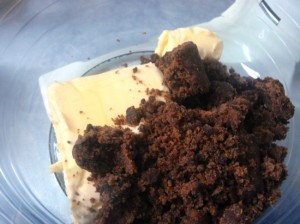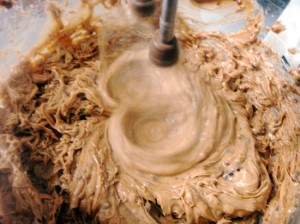 3. In another mixing bowl, beat together butter and brown sugar until light and fluffy (using hand mixer, electric mixer or by hand whisk).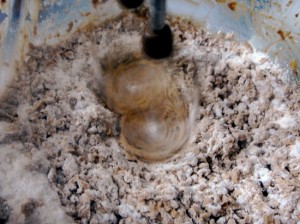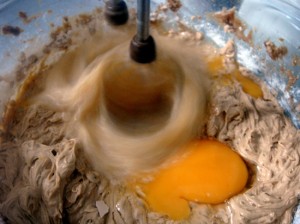 4. Add flour mixture to the butter mixture alternately with egg, beginning and ending with flour mixture.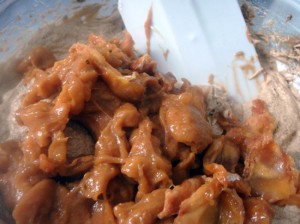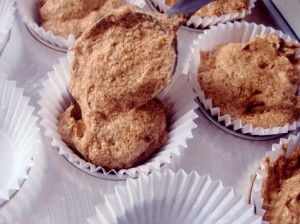 5. Using a spatula, mix the cempedak puree into the mixture.
6. Spoon mixture into the prepared liners, filling 2/3 full.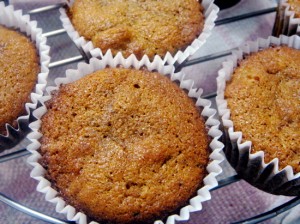 7. Bake for 15 to 20 minutes in the preheated oven, until the top of the cupcakes spring back when touched and toothpicks inserted in centers come out clean. Cool in the pan for at least 10 minutes before removing to a wire rack to cool completely.
Tip
If you don't have muffin trays, don't worry. Muffin baking cups are sturdy enough to be used without muffin trays; simply place the baking cups on a baking tray and fill.