After making a couple different types of pancake (Strawberry Crepes, Gluten free Crepes and the last one Durian Pancake), I was  intrigued with the tender and pliable texture of the durian pancake that makes it easy to wrap or fold. I thought it is be a great recipe to tweak for a gluten free wrap. 
Wrap sandwiches become popular not long ago. These sandwiches are variations of traditional sandwiches; using any type of flat bread, filled with a hot or cold sandwich filling and rolled up. These gluten free buckwheat wraps are easy to make with just a few basic ingredients and make a healthy wrap to stuff with fresh salad and lean protein.
What's great about this wrap: Buckwheat is actually a seed, not a grain. It has an earthy flavor and is gluten free, high in protein and essential minerals. The buckwheat wrap is thin, perfect as a light lunch (especially for low carb eaters). Or to enjoy as crepes and topped with fruits/jam and a little honey. For those people who are on normal diet, you can use wheat flour in place of the buckwheat flour and starch combined.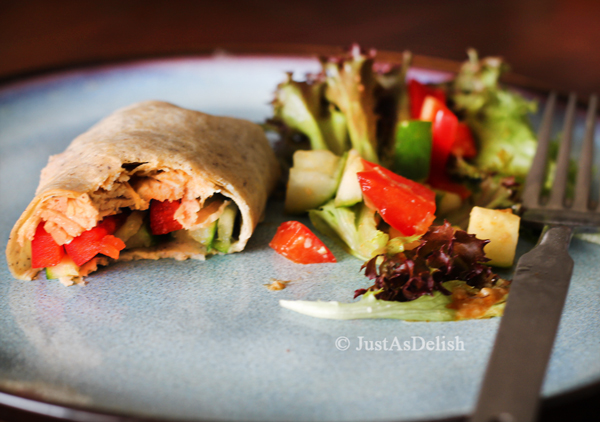 You can fill this wrap with your favourite sandwich variations. I just threw in what's available in my fridge – some leftover roast chicken, cucumber, capsicum, lettuce and spicy miso paste. And you've got to try the spicy miso paste, it adds a burst of flavours to your sandwich or salad – combine miso paste, olive oil and pinch of cayenne pepper.

Buckwheat Wrap
Gluten Free Buckwheat Wrap for healthy wrap sandwiches, with hot or cold sandwich filling.
Ingredients
100g

Buckwheat Flour

25g

Starch (Tapioca Flour / Glutinous Rice Flour)
Pinch of Salt

150g

Eggs (about 3 large Eggs)

250ml

Milk or Water
1 teaspoon Olive Oil
Instructions
Mix flour, salt and eggs into a large mixing bowl.
 Add in milk in 3 parts, combining all ingredients together.
 Lastly, add in olive oil.
Heat up 20cm non-stick pan on very low fire. Scoop

40g

batter into the pan, swirl it to ensure that the pancake is smooth, thin and even.
 Pan fry the

wrap

one minute on both sides.
 Remove wrap from pan and lay it out flat on big plate / chopping board to let it cool down. Continue with the rest of batter to make a total of 10 wraps.
To assemble, place filling on wrap and
 fold like a spring roll.
These wraps are best eaten on the same day. They can be stored in the fridge for 1-2 day, reheat them on the pan when needed.
Notes
For normal recipe, you can use 125g of wheat flour in place of buckwheat flour and starch.