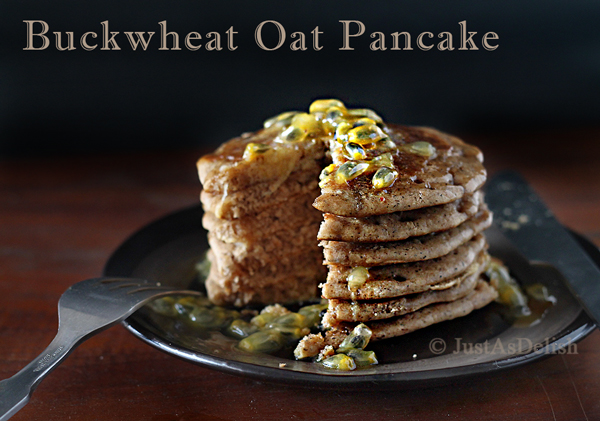 I have this strange obsession with making pancakes and crepes. Pancakes are not part of our Asian food, and I certainly do n0t recall mama making pancakes during my growing up years. Whenever I see any gluten free recipe, I would immediately try them. Don't ask me how many recipes I've tried, I've lost count. I've posted a few crepes recipe – Strawberry Crepe with Whipped Cream Filling, Gluten Free Crepe with Caramelized Pears, Durian Pancake, Buckwheat Wrap.. but no pancake recipe yet *gasp*
Not that I did not want to post, it's just I have yet come across a good gluten free pancake recipe. Until last week. On the cover of Bon Appetit May 2013 issue is a plate of mouth-watering fluffy gluten free Griddle Cakes drenched in maple syrup. That was enough to immediately get me into the kitchen to make myself a batch.
As usual I tweaked the ingredients to what I have, a bad habit that can (and have) turn recipes into disasters but sometimes new creations are discovered. Like a dairy free substitute for buttermilk for this recipe. Buttermilk makes soft fluffy pancakes & cakes because of the chemical reaction when buttermilk (acid) mixed with leavening agent such as sodium bicarbonate.  Normally if you don't have buttermilk, you can add lemon juice to milk and the milk will curdle making it a good substitute for buttermilk. To my delight, this method worked with my homemade almond milk and voila – I have a dairy-free buttermilk substitute.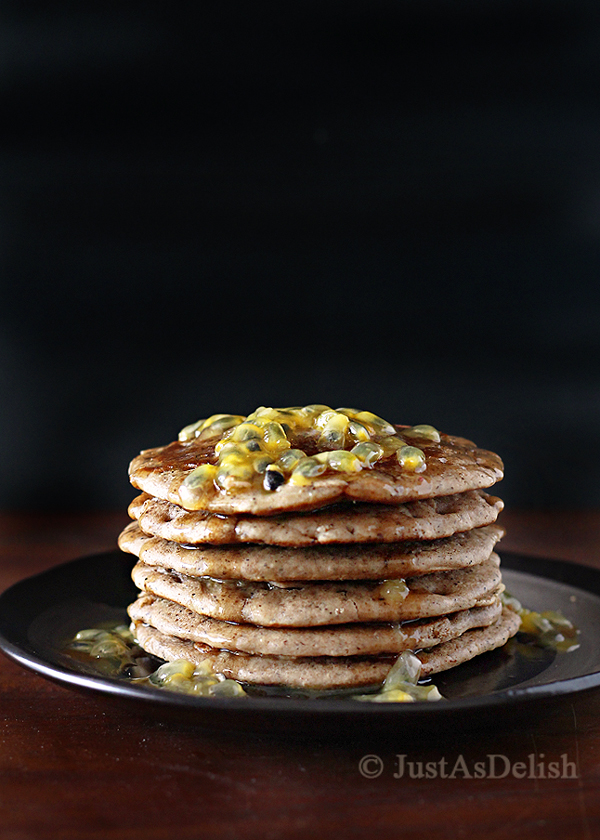 This is the best ever gluten free pancake recipe! Buckwheat Oat Pancakes. Warm buttery fluffy pancakes, who doesn't love them? I ate a dozen in a sitting, topped with some passion fruits. And I made it again the next day.
Wouldn't this make a good dish for Mother's Day brunch?  To all mom's, Happy Mother's Day! You are the AWESOMEST!

Buckwheat Oat Pancakes (Gluten Free & Dairy Free)
Warm buttery fluffy Buckwheat Oat Pancake (Gluten Free & Dairy Free)
Author:
Adapted from Blackberry Farm Griddle Cakes Recipe
Serves:
18 small pancakes
Ingredients
1 large Egg
330ml (1⅓ cup) Almond Milk (or any nut milk or soy milk)
1 tablespoon Lemon Juice
2 tablespoon Honey
90g (1 cup) Oat Flour
90g (2/3 cup) Tapioca Starch
32g (1/3 cup) Rice Flour
20g (1/4 cup) Buckwheat Flour
1 tablespoon Baking Powder
1 teaspoon Baking Soda
1 teaspoon Salt
Olive Oil
Instructions
Pour almond milk in a small bowl, add in lemon juice. Leave it for at least 15 mins or until the milk curdles or separates.
Meanwhile, prepare dry ingredients. Whisk oat flour, tapioca starch, rice flour, buckwheat flour, baking powder, baking soda and salt in a large bowl until well incorporated.
Once the almond milk curdled, add in egg and honey into the milk and whisk.
Pour almond milk mixture into dry ingredients, whisk well.
Heat a nonstick pan over medium heat; lightly brush with oil. Pour slowly ¼ cup of the batter onto pan, holding the cup 2 inch above the pan surface. Cook until bottoms are browned and bubbles form on top of pancakes, about 2 minutes. Flip and cook another 1 minute until pan cakes are cooked through.
Served warm with honey/jam.
Notes
* Oat flour can be found at baking supply shop. You can also make your own oat flour by grinding rolled oats in spice grinder. * Buckwheat flour can be found at organic health shops or organic section at some supermarkets like Jusco / Jaya Grocer * Shorten prep time by tripling the dry ingredients mix and store them in a container. At breakfast time, scoop out 2¼ cups (150g). All the other measurements stay the same.
For non gluten free pancakes, here are some awesome recipes to try:
Buttermilk Pancakes (justonecookbook.com)

Blueberry Pancakes (simplyrecipes.com)