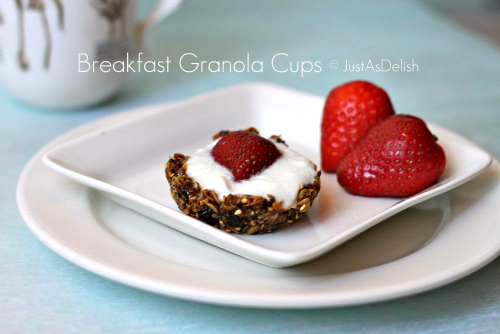 When I saw this ingenious idea on Mommiecooks, I just have to make these cute Breakfast Granola Cups. If those who have been following my blog, they will know how crazy I am about granola. There's a ton of other recipes that I have tested that could be used for a 'CrazyForGranola' blog. It's quite common to see me having yogurt granola parfait for breakfast or munching on a granola bar on the go.
Instead of making granola bars, Mommiecooks bake the granola in muffin tray. Voila! You have Granola Cups to top with yogurt and your favourite fruits for breakfast!
I was trying to be creative and tried using my favourite No Bake Chewy Granola Bar recipe to make into cups. When I took them out from the freezer (to make them harden faster), the cups start to fall apart within 20 minutes (must be due to the 35C weather). I did not even have a chance to take any photos.  But it does not matter, because those chewy muesli bars were gone in 2 days!
My 2nd attempt had me using a baking recipe – another one of my favourite: Nigella's Breakfast Bars with Homemade Condensed Milk. I pressed the granola into different sizes using the muffin trays and ceramic bowls, and bake them. These Breakfast Granola Cups turn out beautifully, they taste just like a bowl of milk and cereal by itself! For the Nigella Breakfast Bars recipe, click here. If you are crazy about condensed milk like I do, check out my post on how easy it is to make your own here.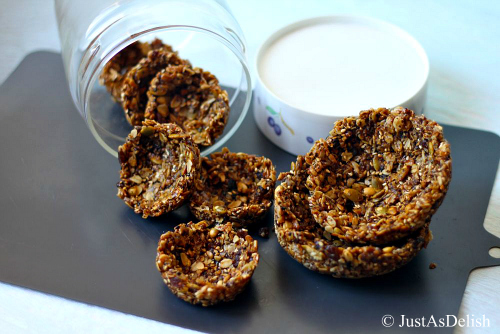 You can also concoct your own granola bar/cup recipe. It's super easy, just follow the Basic Granola Bar Formula on my post here.
Who says breakfast is boring?