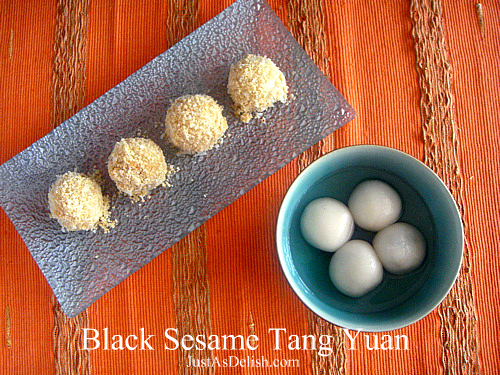 Tang yuán is a Chinese dessert made from glutinous rice flour, eaten plain or filled with black sesame, red bean or peanut paste. Tang yuan literally means "round balls in soup". It is traditionally eaten during Chinese festivities, however it has recently come to be more associated with Dong Zhì (Winter Solstice).
Dong means "winter" and Zhi means "arrival". Celebrated on the longest night of the year, Dong Zhi is the day when sunshine is weakest and daylight shortest, and it usually falls on 22nd December. The arrival of winter is celebrated by families and is traditionally the time when farmers and fishermen gather food in preparation for the coming cold season. These days, Dong Zhì is still an important cultural celebration for Chinese all over the world. In Chinese beliefs, it is also the day when everyone becomes one year older.
The common practice in Malaysia (where it will be hot and humid) during DongZhi is making small colourful Tang Yuan served in sweet syrup soup. It's a fun family affair, where everyone gather to make these cute colourful balls.
Having left my parent's home for years, this is the first year I make my own Tang Yuan and it brings back the fond childhood memories.. Instead of the colourful ones, I made Black Sesame Tang Yuan, to serve in ginger syrup soup or coated with ground cashew and dessicated coconuts.
Black Sesame Tang Yuan (Black Sesame Glutinous Rice Balls)
Black Sesame Tang yuán is a Chinese dessert made from glutinous rice flour, filled with black sesame. This Tang yuan can be eaten with ginger syrup or coated with ground cashews
Ingredients
Black Sesame Filling
100g cup Black sesame - toasted
50g Brown Sugar
50g Peanuts or Walnuts or mix of both - toasted
2 tablespoon Unsalted Butter (or lard), melted
Tang Yuan (for 8 – 10 pieces)
1 cup Glutinous rice flour
½ cup Water
Ginger Syrup
300ml Water
2 inch Ginger - skin peeled and crushed
50g Sugar
2 Pandan Leaves - knotted
Cashew Nuts Topping
50g Cashew Nuts - toasted
10g Dessicated Coconut
10g Brown Sugar
Instructions
Black Sesame Filling
Coarsely grind peanuts in a food processor, and then add the black sesame and grind everything into powder.
In a container, mix grinded mixture, sugar and melted butter, stir to mix until thick paste is formed. Flatten and divide into 10-12 pieces; and chill in the freezer until it solidifies.

Tang Yuan
Mix the glutinous rice flour and water to make the dough. Roll it by hands until the dough becomes sticky like play dough.
Divide the dough into 1.5 inch balls and keep them covered with a damped towel as they dry up very quickly. Take a piece of dough and carefully shape it into a bowl.
Place sesame fillings in the middle of the dough. Seal the opening carefully, make sure the filling does not penetrate out. Gently shape the balls as round as possible by rolling around with both hands.

In a pot of boiling water cook the tang yuan until they float on the surface and cook for another 1 minute.
Quickly scoop out the balls into Ginger Syrup or onto the grounded Cashew to coat. Best served warm immediately.

Ginger Syrup & Cashew Topping
In a pot, add all the ingredients and bring to boil for 5-10 minutes.
Grind Cashew, coconut and sugar in a food processor.