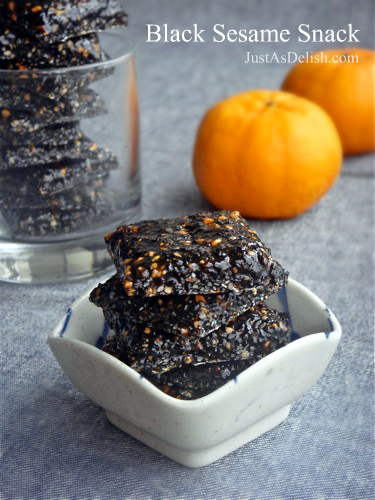 Have you ever had these Sesame Snack – sticky, gooey, crunchy, sesame snack? This is a common Asian snack that many people love. The ones sold in Malaysia are usually added with whole or ground peanuts. I always thought that this snack is complicated to make with the gooey stick ingredient until I saw Sesame Seed Snap recipe on Delishhh.com. Oh boy was I wrong, who knew it only takes 10 minutes of active time! And I was surprised to find out these snacks are also popular in other parts of the world. Seems the global food nation have more things in common that I thought.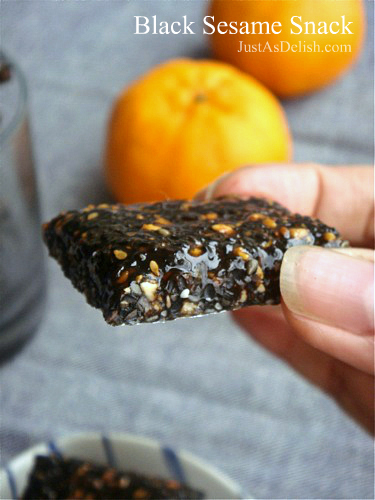 I tried a batch with black sesame and ground peanuts using Delishhh's recipe method because it uses honey instead of just sugar in other recipes I found. I did not have a candy thermometer so I made a rough estimation – cooked for about 7-8 minutes until the mixture becomes thicker.  They definitely tasted very similar to the store-bought ones, except mine tasted  sweeter and  harder like candy, maybe the mixture was overheated. And I would further reduce the amount of honey and sugar. My sis CM requested me to make more for Chinese New Year. Yay I have passed her stringent food quality control..
Besides sesame seeds being an excellent source of minerals and dietary fiber, the Chinese believes Black Sesame helps to keep our hair dark and shiny. Black colour food is actually very rich in antioxidants as well as green. According to the Chinese history, the Emperors of China began eating black rice as far back as 3000 years ago although it was forbidden then. So more black colour food for me!
This being a common snack in Malaysia, this recipe is to be submitted to Muhibbah Malaysian Monday.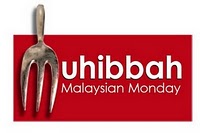 Black Sesame Snack
Black Sesame Snack - Chewy sticky gooey sweet treat, all time favourite
Author:
Adapted from <a href="http://delishhh.com/2011/01/19/sesame-seed-snaps/" target="_blank" data-mce-href="http://delishhh.com/2011/01/19/sesame-seed-snaps/">Delishhh</a> (original recipe from Gourmet Traveller)
Ingredients
1 cup Black Sesame Seeds
½ cup Ground Peanuts
¼ cup Brown Sugar
¾ cup Honey
Instructions
Combine ingredients in a large pot and bring to boil. Reduce to low heat and stir occasionally until mixture reaches 160C on candy thermometer. (I do not have a candy thermometer, so I stir until the mixture thickens (about 6-7 minutes)
Line a square baking tray with aluminium foil and slightly grease the foil.
Pour mixture onto the foil and smooth top gently. Do not press hard or it will be difficult to remove later.
Allow to cool slightly, and cut into squares using a sharp knife. Do this while it is still fairly soft, it will harden as it cools. Once it is completely cool, remove the foil.
Keep these chewy snacks in an airtight container.

Related articles