What could be more fun than meeting & cooking with bloggers on a Saturday morning? Thanks to Philips Smart Kitchen Blogger Cooking Workshop.
Our cooking teacher for the day was Marina Mustafa, host of Dari Dapur Marina Mustafa on Astro Awani. A fun & great teacher always make the workshop enjoyable & easy to learn. Not only that, Marina shares very useful cooking tips with us.
We tested out 3 Philips Smart Kitchen appliances with Beriani Gam & Kuzi Ayam recipe using the pressure cooker and 2 dessert recipes Kacang hijau dessert (adzuki bean dessert) using Soy Milk Maker  & Coconut Fudge Slice using the Airfryer. I'm sure everyone have heard about the revolutionary airfryer by now, but to use it to bake? It's new experience for me.
My stove top pressure cooker have only been used for chinese soups, so I am particularly impressed with the multi functions of the Philips pressure cooker. Porridge, curry, braised, stew and even baking recipes. I like just throwing in all the ingredients and let it cook by itself (as we tried with the Kuzi Ayam recipe), and it taste just as good! For busy working mom like Puan Marina, the pressure cooker become indispensible to her daily cooking for a household of 7. Unlike the conventional pressure cooker that shrill at the top of it's 'lung' when it's done, this electrical-operated one has an auto pressure release device and keeps the food warm while you're busy with other stuff. This is indeed a smart kitchen gadget (and reasonably priced) for busy people who have little time to cook.
Thanks to Philips Malaysia & Social@Ogilvy for a fun & informative cooking workshop. To find out more about Philips Smart Kitchen solutions and how it can help your busy life,
Like Philips Home Living facebook page for recipes and product details.
Click here to watch the video of the workshop.
Click here on how to win Philip products.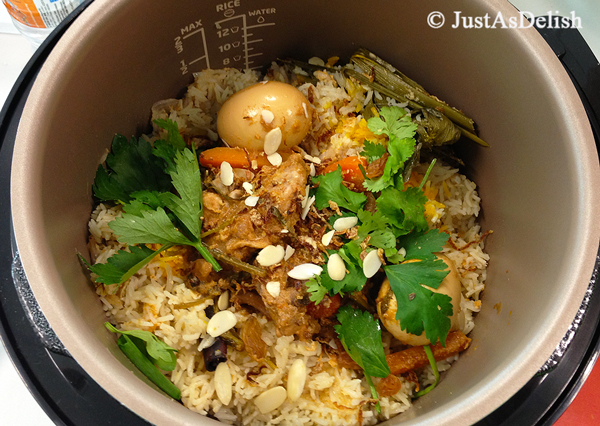 I love the Beriani Gam & Kuzi Ayam so much that I must share the recipe. Thanks Puan Marina for sharing her mom's famous recipes. According to Marina, the secret ingredient to a good beriani is the tairu (curdled milk) & saffron rubbed with sugar to release the flavour. Not only that, the method of slicing onion and garlic and the thickness of each slice will effect the final taste of a dish, just like how Marina's mom used to remind her. Yes madam, I will pay more attention to these details. However green chili is prefered to be torn with the fingers instead of slicing for Kuzi Ayam. Just throw all the ingredients, press 2 buttons and the dish is ready in 20 minutes. I'm still amazed.