Tagine is a type of dish found in the North African cuisine of Morocco. It is named after the special clay pot in which it is cooked. A tagine pot consists of two parts –  a base unit which is flat and circular, and a large conical and dome-shaped cover that rests inside the base ring during cooking. The cover is designed to promote the return of all condensation to the bottom.
Tagines in Moroccan cuisine are slow-cooked dishes with spices and braised at low temperatures, resulting in tender meat with aromatic vegetables and sauce. Tagines can be made vegetarian or with meat. The great thing is that you don't need an authentic Moroccan tagine in order to recreate this beautiful food – a casserole will also give you great results.
This Beef Tagine recipe is adapted from Jamie Does by Jamie Oliver. I was a bit skeptical about cooking fruits in a savoury dish, I quickly change my mind when I had my first taste. Tender beef with flavourful sauces and couscous, it was a very aromatic dish.. Give this Beef Tagine a try and you'll know what I mean.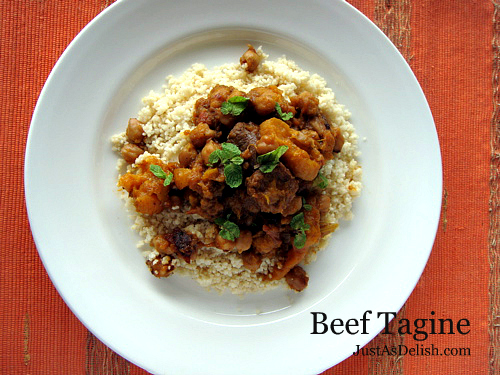 Beef Tagine with Couscous
Moroccan Beef Tagine - beef with spice rub, slow-cooked and braised at low temperatures, until meat is tender with aromatic vegetables and sauce.
Author:
Adapted from Jamie Does
Ingredients
600g Stewing Beef
2 Tablespoon Olive Oil
1 Onion, peeled and finely chopped
a small bunch of fresh Coriander
400g Chickpeas, soaked overnight and boiled until soft (or use 1 x 400g tin of chickpeas)
400g Tomatoes, chopped
800ml Vegetable Stock
1 small Pumpkin (about 800g), deseeded and cut into 5cm chunks
100g Prunes, stoned and roughly torn (I used Dried Apricots)
2 tablespoons slivered Almonds - toasted
Spice Rub
Couscous
Instructions
Mix all the spice rub ingredients and beef in a bowl and give it a good massage. Cover and chill in the fridge for a few hours, ideally overnight.

To start cooking, heat olive oil in a tagine or casserole and saute the meat on medium heat for 5 minutes. Add onion and coriander stalks and fry for another 5 minutes.

Add in the chickpeas and tomatoes, then pour in 400ml of stock. Bring to boil, and reduce to a simmer for 1 hour.
After 1 hour, add your squash, the prunes and the rest of the stock. Gently stir and let it simmer for another 1 hour. Keep a lookout on it and add some water if it looks too dry.

Once the time is up, check the consistency. If it seems watery, simmer for another 5 to 10 minutes. Season with a pinch or two of salt.
Garnish with with coriander leaves and toasted almonds, and serve with couscous.

Couscous
Place couscous in a large bowl. Pour the boiling water and cover with a lid for 10 to 15 minutes, until all the liquid has been absorbed.
Fluff gently with a fork and add in olive oil.

Put the bowl into a steamer to steam for 10 minutes.

Notes
*Ras el hanout (Arabic for "top of the shop") is a blend of the best spices a vendor has in his shop. It usually includes nutmeg, cinnamon, mace, aniseed, turmeric, cayenne, peppercorns, dried galangal, ginger, cloves, cardamom, chilli, allspice and orris root.Related articles
link