A few weeks back, my good friend R rang me up to rant. His cousin who have major health issues with 3 stents placed in his arteries (stents are tubes placed into blocked arteries to help the blood flow) and very overweight. R encouraged his cousin to start with short routine exercise as R have lost a lot of weight by doing so. Cousin's wife reply: No time to exercise.
R was flabbergasted. "I just cannot comprehend what goes on in some people's mind. I just had to rant", he said. No time for exercise, soon you will have no time for life.
A week later, another friend F told me a good friend, A, have passed away 6 months after refusing doctor's advice to stopped smoking. A smoked 40-50 cigarettes a day!
2 incomprehensible attitudes. It is out of many people's reality to change their habits. And maybe it's not in their reality that  their habits will cause their life.
When I was first instructed by my naturopath to avoid some food ingredients, the first thing that popped up in my mind was "How can I survive without WHEAT?". Back then, it was also out of my reality to eat wheat-free. After a year of observation, wheat, dairy and pork indeed made me sick. People around me do not understand. They take a look at me and goes "You don't look sick".  Honey, you don't need to be lying on the bed half dead to be sick.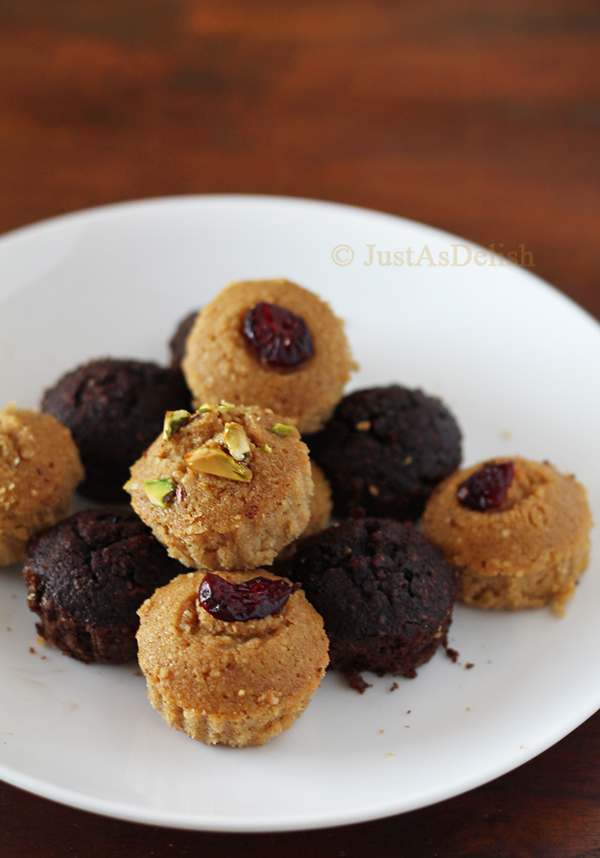 Therefore I'm always on the look out for baking recipes that are naturally wheat-free, such as these Flourless Chocolate Financiers. These Financiers (French almond cakes) are traditionally baked in shallow rectangular molds. Your guess is as good as mine about the origin of the name. There are 2 stories: Some say it's because they are made with almond powder (pricey ingredients) that only bankers could afford; others say it is because the thin rectangle shape looks like gold ingots, and are hence favoured by rich people. Whatever the reason, they are a delicious treat, buttery and nutty, slightly crisp on the top and edges, while sweetly soft and moist inside.
I like serving mini-portions, just like the sweet little mignardises that they serve with coffee in upscale restaurants. I  prefer not force-feeding my guests with a slice of cake, and maybe all they think about all week is juice and a celery stick. Not wanting to leave out my friends, the traditional financiers are baked for them.
Whenever someone say to me "You are missing out on life by not consuming wheat", I just smile. I just choose to have a fulfilling LIFE instead of wheat that's making me miserable.

Bébé Financiers & GF Chocolate Financiers
Financiers - a delicious French treat, buttery and nutty, slightly crisp on the top and edges, while sweetly soft and moist inside.
Author:
Chocolate&Zucchini & GlutenFreeGirl
Ingredients
125g Almond meal (aka almond flour or ground almond)
30g Icing Sugar
50g Honey (or any sweetener)
4 Egg Whites
70g Butter
20g Flour (or replace with Cocoa Powder for Gluten Free option)
Optional Garnish :
Nuts, Chocolate Chips, Berries
Instructions
Preheat the oven to 180°C (360°F). Grease the mini muffin trays with butter or use non-stick trays.
Melt the butter in a small pot and simmer for 2 minutes, until lightly browned and nutty-smelling. Set aside to cool.
In a medium mixing bowl, combine sugar, almond meal and eggs, mix well with a fork. Add in the melted butter, mix again, then add in the flour (or cocoa powder), stirring while you pour.
Scoop the batter into each individual mold, filling it up just to the rim. If you like, you can add berries, pistachios or chocolate chips.
Bake for 10 to 20 minutes, depending on the size and shape of your mould. The financiers should puff up a bit, get golden and slightly crusty on the edges, but they will still feel soft to the touch. Cool down for a few minutes, before turning them out on a rack to cool completely. The bottoms have a tendency to be a bit sticky when still warm, so you may want to put them upside down on the rack, or put them on a sheet of parchment paper.