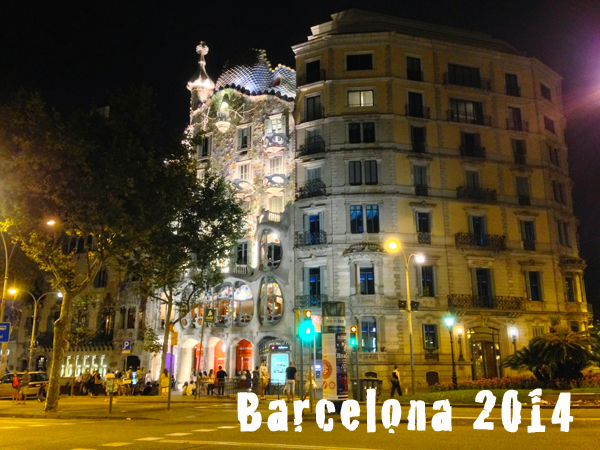 With a short notice for an 8-day vacation, I was undecided where to go. Norbert chose Venice, I wanted somewhere more fun. Without even doing much research, I decided on Barcelona and we were lucky enough to get cheap tickets. As we were both pretty occupied before the trip we decided not to make any plans – be a wanderlust traveller for once. We rented apartments through Airbnb to live like the locals and do some food hunting as usual – eat local and go where the locals go.
With 4 hours of less time in Barcelona due to delayed flight, we arrived to our rented apartment just off La Rambla after 7pm. By the time we arrived by foot at Tapas 24 at 9.30pm, there was a long queue from the outside to the basement of the restaurant. We were both damn hungry so we decided not to queue and went to the packed Tapa Tapa around the corner (one of the busy tapas restaurants along Passeig de Gràcia). The minute I saw mini-burger for 8€ on the tapas menu, we should have walked away…
5 tapas later, 40€ poorer and still hungry, we went back to Tapas 24. Thanks to blogger friend Sylvia's recommendation, we stuffed ourselves silly with amazing tapas just past midnight. We had flavourful rabbit ribs which were tiny yet juicy, melt in the mouth tripe stew (a tad too salty on its own), grilled baby cuttlefish (succulent & crispy on the outside) and not forgetting their famous Bikini Comerç 24. No, it's not the same bikini from the beach. I just needed to get a bite; This bikini is a serious mouthgasm of a thin warm sandwich with black truffles, cured Iberian ham and buffalo mozzarella. 2 very happy tummies strolled back to our apartment on a warm summer Barcelona night at 1am, and yet there's still quite a lot of people along La Rambla.
A must go for foodies is Mercat de La Boqueria – a vibrant fresh produce market and tapas eateries (some were a bit touristy). We bought fruits, snacks, and some produce to cook at one of the nights, in the tiniest kitchen I've ever seen. A week of eating out is just too much for me. Being able to cook my own food is also one of the reasons why we love renting from Airbnb. Psst! I always bring a big bag of homemade granola for my breakfast & nuts for snacks.
The first 2 days, we made a mistake of walking into cafes/restaurants that looked packed. If the waiters speak good English, menu is in English and has pizza on it, AVOID! We found out later the prices of these touristy eateries are almost the same price with Michelin recommended restaurants! Since then, we only ask the locals for recommendations or go for Michelin recommended ones. We learned from our host Emy (who is a vegetarian) that our apartment in El Raval was surrounded by plenty of vegetarian & organic choices.
We love the vibrant culture, gorgeous Spanish architecture (love, love, love their balconies) and laidback lifestyle. Eateries are mostly opened from 1pm-4pm & 8pm-11pm (except touristy areas). Some shops in Barcelona might be closed for siesta. In small villages, all the shops are closed for siesta (1pm-4pm) and open until about 8pm. So it's best to check their opening hours before popping over. Everywhere I turn, the menu is predominantly pork (hundreds of different sausages, chorizo, ham) and fresh seafood. As I don't eat pork and am wheat intolerant, we were well understood with the phrase "no pork & no pan (bread)" everywhere we go. I couldn't be happier with a week of awesome cheap seafood, was almost grain free except for my breakfast granola and a meal of must-have paella.
I was relieved when we arrived at the quiet village of Sant Sadurní d'Anoia, an hour train ride from Barcelona. Yes, Barcelona was fun, vibrant and happening, but packed with tourists. A lovely 'cava' village, Sant Sadurní d'Anoia is surrounded by vineyards for making cavas (Spanish sparkling wine). The locals don't speak much English, which is a plus point for us because the village was not swarmed by tourists. The highlight was the tour into a major cava producer – Freixenet, they sell 9 million bottles of cavas a year. Phew, that's several Oylmpic pools of cavas!
Thanks to Montse of Hostal Sant Sadurní, we had a lovely lunch of local dishes at L'Expres. The owner who does not speak a word of English managed to understand no pork & wheat, we left it to her hands to serve us. I had a delicious lentil salad, and cod fish with mushroom. For him was tuna salad & tenderloin with chips. Plus cava, water & coffee, the bill came in at a total of €20. We were like "Where's the rest of the bill??"
For those who prefer a hassle free trip to the wineries, there are interesting one-day wine and food tours that cover the area and different wineries.
The other place recommended by Montse was La Cava D'En Sergi. We arrived there after a good 30 minutes walk, only to find that it's a Michelin recommended restaurant. We only ordered the main dishes as both of us were not very hungry. It was a pleasant surprise to be served an appetizer of tomato cheese mousse (on the house), a refreshing summer dish. My main was the best fish dish I've ever tasted – melt in the mouth cod with spinach mousse. Everything on the dish is perfect, just a tad cloying from too much mousse. Food's excellent, price is reasonable, service could be better. The wait staffs were kinda grumpy, might be because we were not dressed appropriately. Hah.
We were off to Monistrol de Montserrat the next day, a quaint mountain village with breathtaking sceneries. We wandered around the village, went on the trekking trails and stumbled upon a nice restaurant with 1euro tapas. How could we resist. This time we had a harder time communicating for food orders, and ended up going to the counter to point at the readily prepared tapas.
On the last night in Barcelona, we had our best meal yet. Definitely worth the 1 hour walk back & forth to Pura Brasa bistro. That's how we burned off all the eating during vacation 😀 The smoky grilled octopus with perfectly cooked melt-in-the mouth potatoes, was spectacular – just as described on the menu. Followed with another splendid main of Grilled Duck Magret – smoky juicy duck was so damn delicious with the raspberry coulis. Norbert was very satisfied with his '20-hour' spare ribs, that went well with the raspberry couli from my duck dish. Though we were filled to the brim, we just could not resist the chocolate bomb (kinda like chocolate filled profiteroles) and Crema Catalana.
2 small backpacks – that's all we brought for 8 days in Barcelona. All thanks to Norbert for being an amazing packer. I managed to squeeze in some gifts, a new dress and shoe's. 😛 Unfortunately there was no more space for turkey chorizo and salted bacalao (cod fish). Aimless wandering in the sea of senses, charming architecture and delectable food. My kind of vacation.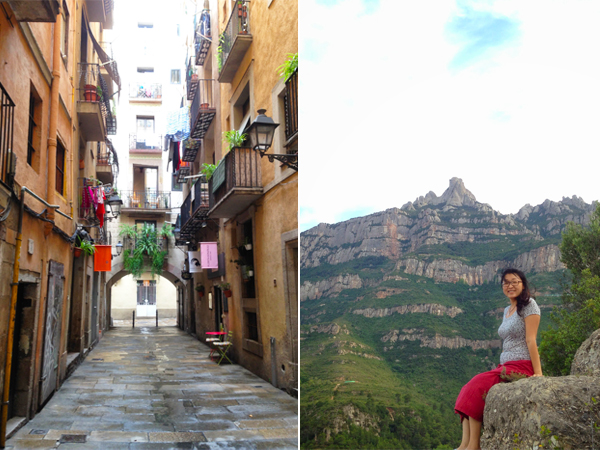 Click here for more photos of the trip.
If you want have a cultural experience & learn about the locals, give Airbnb a try. It's much more personal and economical,  amazing views with the comfort of a home and having an equipped kitchen at our disposal. Sign up with my code www.airbnb.com/c/clim129 and get a USD25 off your 1st booking. I recommend this site because we have many amazing experiences staying in the local's beautiful homes.