Banana Spirulina Smoothie packed with healthy fats, good carbohydrate, complete protein and green boost to fuel your day and workout.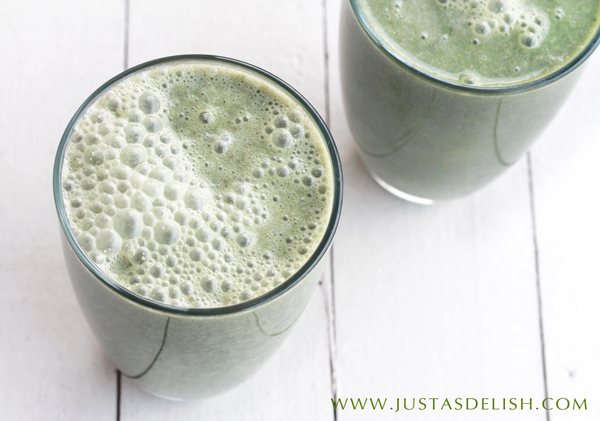 A couple of weeks ago, my friend Tracy took me along to her personal training session as her husband could not make it to that session. Honestly, I've not been actively working out this year, just some occasional yoga practice, morning walks at the park, hike or swim. As I don't like working out in the gym, a part of me dreaded a killer session but a part of me was so looking forward to it because I've been wanting to firm and strengthen my body, especially the arms and abs.
Through a series of simple exercises, the trainer JP pointed out that my weak upper body and core muscles are one of the causes for my spine issues. With consistent workout, strengthening these parts will help in the overall spine health. What I liked was the use of a resistance band (which can easily be carried around even during travels) to strengthen instead of dead weights. To my surprise, I actually enjoyed the session. The moves and exercises can easily be done anywhere and anytime, which is why I've been able to continue working out weekly on my own. Of course having a personal trainer will speed up the results, however my current financial situation does not allow me one at the moment.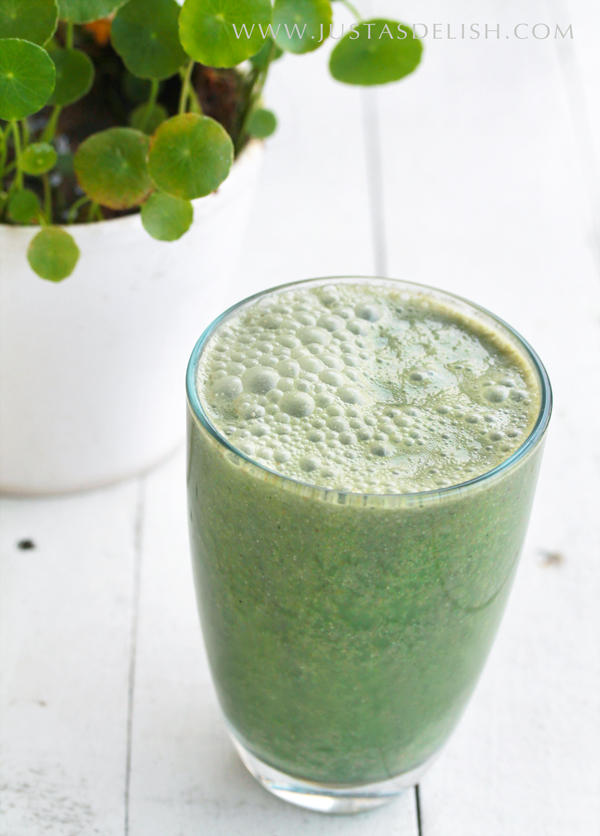 Even though the moves looked easy, my body was shaking and sweating like mad in the first couple of sessions, so  I needed to fuel up before the workout with 1 piece of homemade energy bar and after the workout with a power-packed smoothie. Having a workout smoothie help keeps the hunger away for hours. After a serious sweat session, your body is pretty much running on empty. Unlike a car engine that stops burning through gas once you turn off the ignition, your body keeps moving, repairing, and replenishing long after you've finish the workout.
This Banana Spirulina Smoothie is my favourite post workout fuel with my new kitchen gadget. Almond butter for the healthy fat; good complex carbohydrate from banana and dates to restore the energy; hemp seeds for its complete protein and finally; spinach and spirulina for the green boost. Some days we all just need an extra boost of health and this beautiful glass of green goodness is the best way to get it. Pack it in a thermos flask and bring it along to your workout. According to fitness and nutrition scientist Cassandra Forsythe-Pribanic, you need to consume lean protein and carbs 15-30 minutes after your workout. If you wait any longer, your blood sugar will plunge.
For those who know me, I'm not much of a gadget person, as I believe everyone can cook with minimal equipment. There is however one gadget that I'm fussy about – a good high speed blender for my smoothies. I had the opportunity to test out a few gadgets in past 2 months, and for a blender at the price range of RM299, I'm pleasantly surprised with Tefal Blendforce Maxi's performance and the easy to clean glass jug. I'm thrilled that my almond milk and workout smoothies turned out really smooth and creamy. One of my readers is going to be thrilled too. So stay tuned next month for an exciting news!
So my dear reader, how do you workout?  Do you have other methods or tips to fuel your workout? Let me know in the comment section.
Note:
* My Tefal Blendforce Maxi was sponsored by Tefal Malaysia. I only work with brands that I personally love and are inline with my philosophy. All opinions expressed on this blogpost are my own.

Banana Date Green Smoothie
Banana Spirulina Smoothie packed with healthy fats, good carbohydrate, complete protein and green boost to fuel your day and workout.
Author:
An Original Recipe by JustAsDelish
Ingredients
2 tablespoon Raw Almond Butter (storebought or homemade)
250ml (1 cup) Unsweetened Almond Milk or Filtered Water
1 Large Banana
4 Dates - soaked and pitted
a handful of Spinach - leaves only
2 teaspoon Spirulina Powder - I use this brand (or any green grass powder like barley or wheatgrass)
3 tablespoon Hemp Seeds
1 tablespoon Chia Seeds
1 teaspoon Ginger Powder (optional)
½ teaspoon Ground Cardamon (optional)
a pinch of Ground Clove (optional)
Instructions
If you do not have a high speed blender, place the ingredients in this order for easier blending - soft leafy greens followed by fruits, almond butters, seeds, powders and lastly the liquid. Blend and drink up.
Notes
1. Do not gulp down your smoothie. Chewing your smoothie aids digestion. Mindful eating and drinking is key to a better digestion.
2. Add spices to help warm up your body on cooler days.