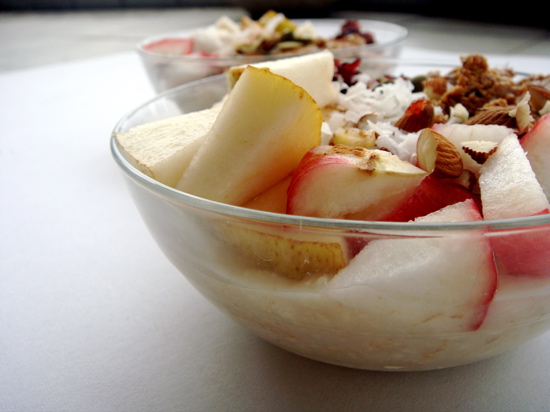 I remember in the schooling days my mama would force us to eat tasteless bland Quacker oats. Yuck, I would try to avoid it at in anyway. It was only recently I learned this new tricks/recipes from Ashley's Edible Perspective blog that I am now in love with my oatmeal! I've never seen a girl so crazy about oats like Ashley. The trick is to top with loads fruits/nuts/seeds/peanut butter/fruit preserve/jam.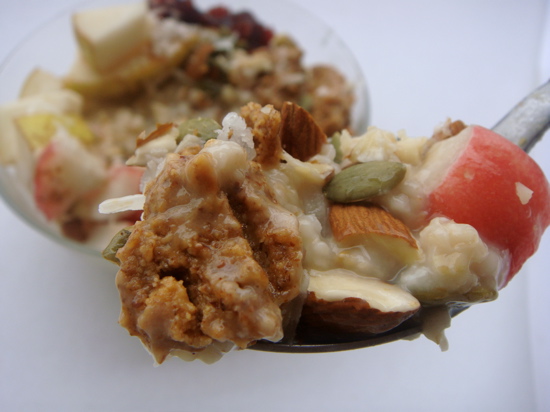 Last week, I had to leave KL early morning for 4 hours drive to my grandpa's home up north. I am not an early morning or early breakfast person, so I made my Oatmeal On The Go – pack in glass jar for breakfast at the highway rest. You can see the difference in the lighting of the photos – lighting in the kitchen early morning, not as nice as natural sun ray 🙂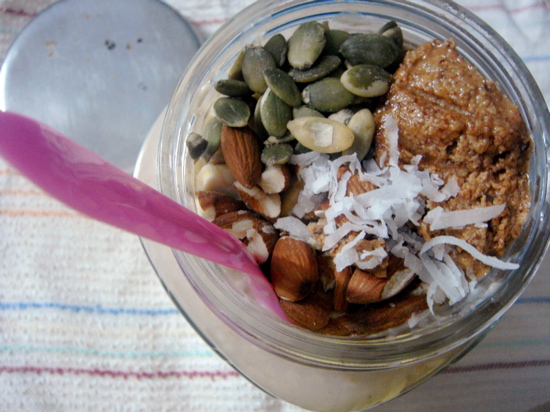 I have been experimenting photo tips & techniques, the food looks much prettier now.. Ok enough of the photos, here's the recipe
BANANA OATMEAL
6 Tablespoon rolled oats
1/2 cup milk
1 cup water
1 large banana (sliced)
1/2 teaspoon vanilla essence (optional)
1/2 teaspoon cinnamon powder (optional)
1. Bring oats, milk + water to a boil, then reduce heat to simmer, stirring frequently.
2. Cook for 5 minutes, and just before done, stir in banana, vanilla + cinnamon powder.
3. Cook for 1 more minute, and let it soak 5 minutes to soften the oats.
4. Pour into a bowl, top with extra milk and whatever other toppings you want.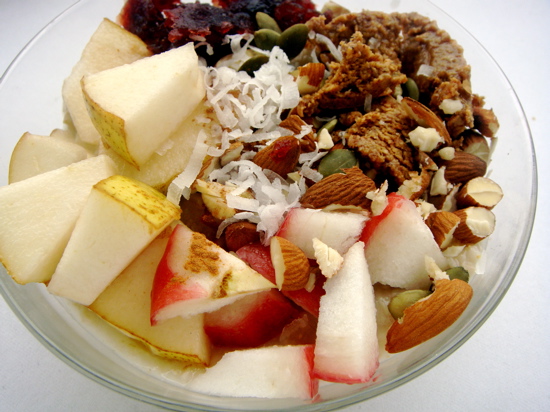 Here I top with juicy red guava (from my mama's tree), pear, homemade cranberry jam, homemade walnut butter, coconut flakes, pumpkin seed & almond. I can eat this everyday, my mama will be very happy 😛
Check out the super easy homemade walnut butter recipe! It's another easy recipe I fell in love with
Just As Delish, or even better!