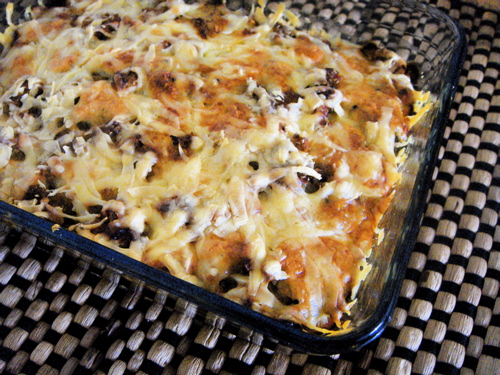 Baked Rice is a classic dish in Hong Kong, the most popular is Baked Fried Rice with Pork Chops. It's a bed of rice top with meat, vegetable and cheese, and baked until the cheese melted. I had my first taste of Baked Rice in Hong Kong style Restaurant Kim Gary 5 years ago.
When I stumbled upon Meat Doria recipe on Just One Cookbook, I was excited to learn that baked rice in Japan is called Doria. I love browsing on Just One Cookbook, the homecook Japanese food is so DELICIOUS and Japanese cuisine is one of my favourite! The dishes are easy, but requires some Japanese sauces/ ingredients. The Meat Doria recipe is something I can easily whipped up Baked Rice with the ingredients in my kitchen.
With the ingredients I have in my kitchen, I tweeked the recipe. And of course using the Homemade Tomato Sauce in my previous post. For a Japanese-style Meat Doria, get the recipe from Just One Cookbook.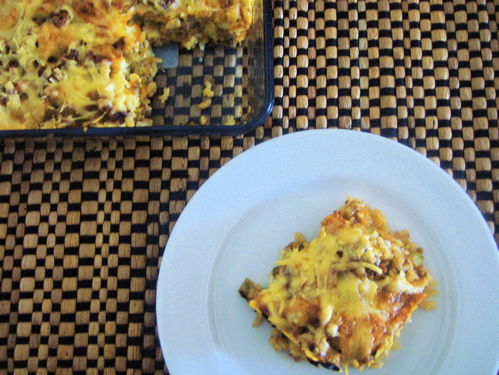 Today is Day 12th of October Unprocessed Challenge. It was more challenging that I thought, especially with eating out and usage of seasoning sauces. Over these 12 days, I managed to achieve almost 90% unprocessed and I'm proud of myself. I will be away tomorrow until next Tuesday and I will try my best to continue this challenge. See you next week and have a great weekend!

Meat Doria
Author:
Adapted from Just One CookBook
Ingredients
Meat Sauce
1 large Onion - chopped finely
1 Celery Stalk - chopped finely
1 small Broccoli - cut into very small florets
6 Shiitake mushrooms - soaked and chopped finely
2 tablespoon Olive Oil
1 bay leaf
200g Minced Beef (can also use chicken or pork)
60ml (1/4 cup) Chinese Cooking Wine
1 diced tomato (I use my homemade tomato sauce)
Water
Pinch of Sugar
Salt & Pepper to taste
Baked Rice
1 teaspoon Butter
2 servings Cooked Rice
Meat Sauce
1 cup Cheddar Cheese
Instructions
Meat Sauce
In a large skillet, heat oil on medium high. Add garlic, onion and bay leaf and cook until fragrant the onion become translucent.
Add celery and carrot, and cook until soft.

Add mushroom and meat. Use a spatula to break up the meat.
When the meat is almost cooked, add tomatoes. Then add water until all the ingredients are covered.

Add wine and reduce heat to medium low and simmer (without a lid) until most liquid is evaporated.
Add salt and pepper to taste. (Remember to under season the sauce, because the cheese will be quite salty)

Assembling Baked Rice
Butter the baking dish and put rice inside. Pour the meat sauce on top of rice.

Sprinkle 2 kinds of cheese on top.
Cook in the oven or toaster oven until cheese is all melted and slightly burnt.

Notes
i) Remember to under season the meat sauce, because the cheese will be quite salty. I forgot about that and season the sauce to my usual palate, and the whole dish was a bit too salty when eat with the cheese.
ii) I wanted the cheese to be mostly burnt and left the dish in the oven for more than 30 minutes. The cheese ended up harden instead of melted 😛
Just As Delish!