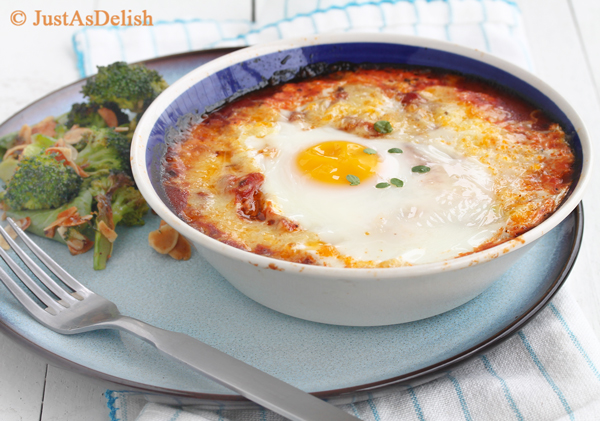 I'd bookmarked this Baked Eggs in Pomodoro Sauce recipe from Quay Po Cooks sometime ago. QPC had been so fortunate to watch Chef Fabio Viviani (Top Chef Season 5) demonstrate this simple and delicious recipe at his restaurant. I can imagine Chef Fabio's suave personality charming all the female audience at the demo.
This huge Top Chef fan (pointing to me) could watch the seasons reruns over and over again. Watching the chefs' creative minds at work is just so mesmerizing and inspiring. With gorgeous Padma as the host, it's as though the show is created just for her. I have so many favourite chefs – Richard Blais, Carla Hall among a few. Who is your favourite?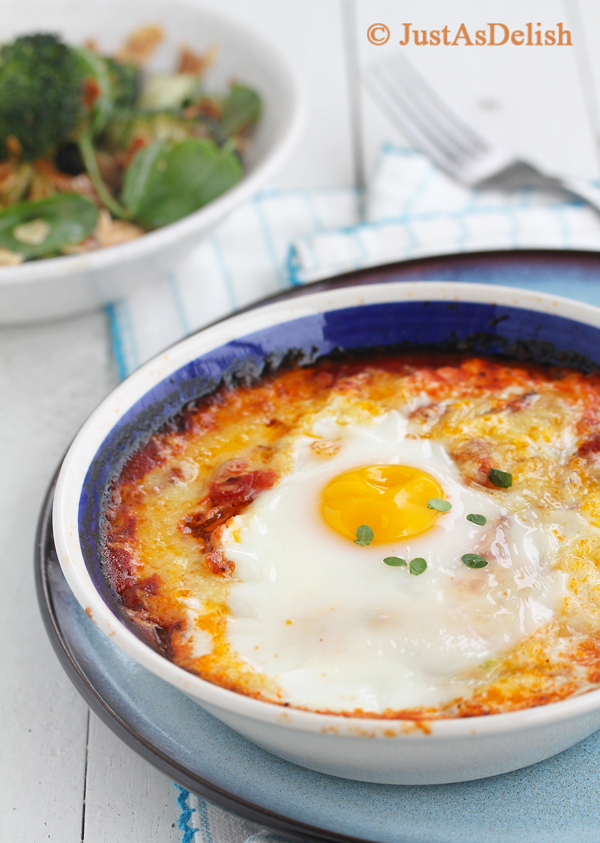 When my younger sis came to visit, I made this Baked Eggs served with roasted broccoli salad. It's perfect for that day as both of us wanted something light and easy. The meal may looked light but it was pretty filling for both of us. Cooking roasted broccoli for the first time, both of us were surprised by how nutty and good it tasted. Will tweak again before posting the recipe.
Talking about television, I appeared on Bella at NTV7 (a local television network) last Friday. Though I was more well prepared this time around, my thoughts were kinda scattered, so don't laugh. I had lots of fun demonstrating a healthy dessert – Dragon Fruit Agar Agar (Jelly). The recorded copy isn't that clear, but you will get the gist of it.
[youtube=http://www.youtube.com/watch?v=diP5wN0RqJc&w=480&h=360]
Baked Eggs in Pomodoro Sauce
Author:
Adapted from Quay Po Cooks
Ingredients
500g Pomodoro Sauce (I use bottled natural Pomodoro Sauce) or Homemade Tomato Sauce
1 tablespoon Olive Oil
1 teaspoon Italian Herbs (mixed of dried basil, oregano & thyme)
2 cloves Garlic - minced
1 large Onion - finely sliced
½ cup grated Cheese (I used some leftover Gouda)
2 Eggs
salt and black pepper to taste
Instructions
Place oil in a small pot on low heat and saute garlic and onions.
When onions are soft, add in tomatoes and herbs. Simmer about 10mins until it is reduced into a thick gravy.
Scoop into 2 ovenproof bowls (I used 5" bowls) and sprinkle grated cheese over the top.