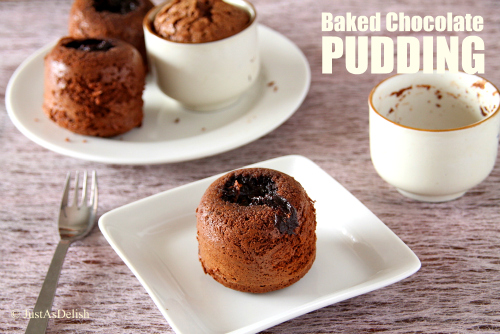 Jamie Oliver claimed this Baked Chocolate Pudding is chocolate heaven is his cookbook Jamie's Kitchen. And I couldn't agree more! I've been eyeing this Baked Chocolate Pudding recipe for months now but time was never right until last week. My chocolate cravings had shot through the roof!
A bit of side tracking from the recipe. I love watching Jamie Oliver in action, his boyish goofiness charm makes cooking look so fun and effortless. One of the item on my Bucket List is to have a meal with Jamie Oliver cooked by him. He so brilliantly uses his passion to make this world a slightly better place: from training school drop-outs to cook at his chain of Fifteen Restaurants to winning funds from the government to improve the UK school meals to bringing food awareness to America with his Food Revolution. He is my inspiration and role model to start this blog, my own little way to share with people around me of a healthier eating lifestyle.
Now back to the decadent Baked Chocolate Pudding..
I did not have enough ramekins, so I also used these 3″ porcelain teacups, which has been very useful moulds for my other recipes. Actually the teacup size are ideal for portion and calorie control; thus help me stay on good terms with the scale 🙂 This pudding reminds me of Molten Lava Cake, but I was caught by surprised with the moist texture, as it uses rice flour instead of wheat flour, must be the egg white that fluff up the moisture.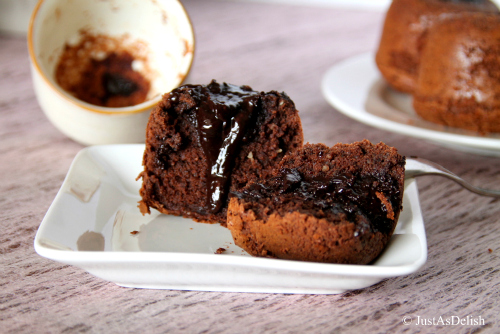 However I was a tad disappointed when the chocolate center did not ooze out as in the cookbook photo. I think my coffee chocolate frozen cubes mixture was too thick and not liquid enough.
Well that doesn't really matter when I'm in chocolate heaven.. and psstt.. also had this for breakfast the next morning 🙂


I'm in chocolate heaven with these Baked Chocolate Pudding. Just as Jamie Oliver described!
Ingredients
300g 70% Bittersweet Cooking Chocolate - roughly chopped
50ml Hot Espresso or Good Strong Instant Coffee
50g Butter, plus extra for greasing
3 medium Eggs - separated
70g Brown Sugar
50g Almonds - finely grind with food processor
50g Rice Flour
1 small handful Hazelnuts - toasted & roughly chopped
Instructions
Melt 125g chocolate with the hot coffee, then pour into small ice-cube moulds and freeze until hard (about 30 minutes).

Take 6 small 3-inch ramekins or cappuccino cups and grease well with some butter. Place in the fridge while you make your sponge mixture.
Melt the remaining 175g chocolate with the butter in a heat-proof bowl over a pot of boiling water.
In a separate bowl whisk the egg whites with the sugar until firm.

Fold the yolks into the cooled chocolate and butter mixture, then add the almonds and flour. Finish by carefully folding in the egg white mixture. Preheat 190ºC or 375ºF.

Take your moulds out of the fridge and spoon a little mixture into each one, then push in a cube of the frozen coffee and chocolate mixture. Cover with the rest of the sponge mixture so each ice cube is completely enveloped.

Bake in the preheated oven for about 18 to 20 minutes. Carefully run a spoon/knife around the edge of pudding and remove carefully from the moulds while hot. Serve immediately sprinkled with hazelnuts.