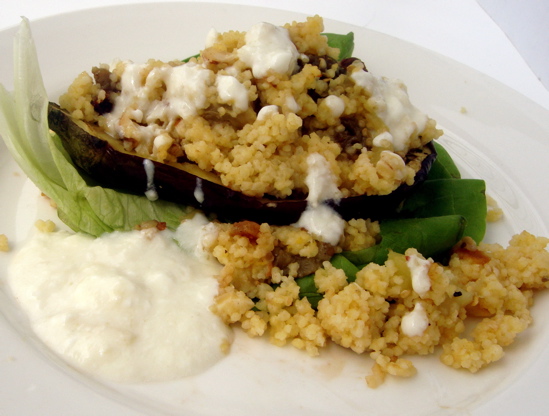 Eggplant / Aubergine is one of my favourite vegetable.  No matter how it is cooked – deep fried, steam, baked, it will still retain it's flavour. Usually the eggplant will soaked up a lot of oil, so I was excited to find this healthy alternative to cook the delicious eggplant.
This recipe called for cous cous, which I replaced with millet – my new favourite grain. I am not sure if it will work with rice, might try that next time.
The yoghurt dressing is actually with coriander. Sigh.. I know coriander is good of us, but I sadly have to say I totally dislike coriander because I can't stand the smell. So I gladly omit out coriander from the dressing recipe, which turns out just as yummy. The lemon and garlic goes very well with the yoghurt and makes a very refreshing dressing that can goes with a lot of salad. Even my sis CM who does not like plain yoghurt gives the dressing thumbs up. Do try out my homemade yoghurt recipe.
This recipe is vegetarian and super super healthy, low in saturated fat and high in fibre.

Baked Eggplant with Lemon Yogurt Dressing
Ingredients
1 medium Eggplant/Aubergine
2 tsp Olive Oil
Juice 1 and zest ½ Lemon
100g Millet
300ml water
85g Dried Apricots, roughly chopped
4 Sundried Tomatoes in oil, drained and chopped
25g Pine nuts, raw/toasted (I used walnut & almond, works well too)
Pinch Ground Cinnamon
Dressing
4 tablespoon plain yogurt
2 teaspoon Lemon Juice
1 fat Garlic clove , crushed small handful
Coriander, roughly chopped


Instructions
Heat oven to 190C.
Leaving the stem on, cut the aubergine in half lengthways and score the flesh deeply with a sharp knife in a criss-cross fashion. Place in a shallow baking dish. Mix the olive oil and lemon juice then brush over the scored surface of the aubergine. Season with freshly ground black pepper and bake uncovered for 25-30 mins, until the flesh is tender.


Meanwhile, boil millet in a pot for 15 mins or untill water is absorbed. Fluff up with a fork, then stir the apricots, tomatoes, spring onions and nuts into the millet. Sprinkle with the cinnamon and toss well together.

Remove the aubergine from the oven and scoop out the flesh, taking care to keep the skins intact. Chop the flesh and toss into the couscous mixture. Place the aubergine skins back in the baking dish and spoon the couscous mix into them, piling it up to hold a generous amount in each. Scatter any left over couscous mix around the edge of the dish. Return to the oven for 10 mins to heat through.


While baking, mix all the dressing ingredients together - add a drop of water if the dressing is too thick.
To serve, heap the loose couscous mix under the stuffed aubergines so they're propped up on a slant. Drizzle over dressing and serve with mixed leaf salad.