Asian Food Fest: Thailand has completed with a massive round up of dishes last month, check it out over at Her Frozen Wings. Asian Food Fest is a virtual event where we cook dishes for each designated country/region of the month right in the comfort of our own kitchen and share it on Facebook. Everybody is welcomed!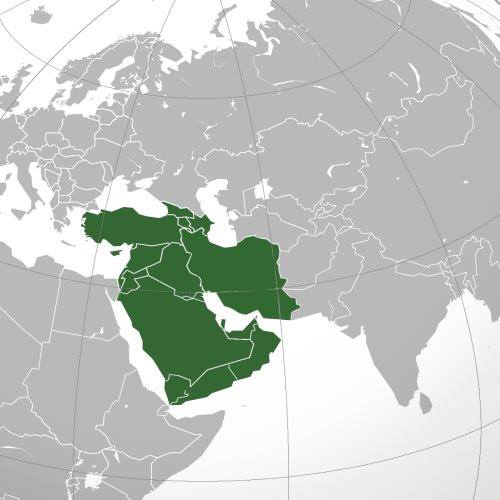 Asian Food Fest brings us to West Asia this December with Just As Delish as the host. Western Asia, or Southwest Asia, are terms that describe the westernmost portion of Asia. The term West Asia given by the United Nations are partly because of the Middle East is geographical position in relation to Western Europe rather than its location within Asia. The West Asia is a region encompasses with the following countries: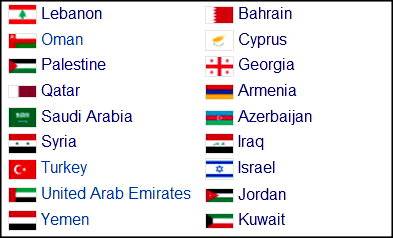 The West Asia cradles an ancient cuisine, one of the world's oldest cuisine, just as interesting as the history behind it. The food has been influenced by visiting cultures from both East (Europe and Mediterranean) and Asia, having mingled and traded on the West Asian soil. With Arabic being the common language, most dishes across the region share the same name, with their differences concealed in the seasoning and preparation methods. For example: Persian, Iraqi and the Gulf (Saudi, Kuwait, Bahrain, UAE, Oman and Qatar) cuisines are more abundant with meat, overflowing with rice dishes and use of Indian spices. The Mediterranean cuisines of Lebanon, Syria, Palestine and Jordan use huge amounts of pulses, grains, nuts, citrus fruits and fresh herbs.
Having an Iraqi business partner for 6 years have introduced me to whole new world of flavours and ingredients. From his Middle Eastern (Iranian, Iraqi, Jordanian, Kurd and Saudi) friends living and studying in Kuala Lumpur, I get to know the restaurants and ingredient shops they keep going back over and over again, and the food they love to order. I'm lucky that my then partner Faisal was helpful in my request to bring spices and fresh ingredients on his trips home – marlow jute (molohkia), vines leaves, tiny okra and braided cheese.
Eating the West Asian way
Contradictary to most beliefs, west asia cuisine is very healthy. Many recipes use only olive oil, most food are grilled and baked, very few dishes are deep fried. Real home-style dishes revolve around vegetables and grains, which are used to extend the limited amounts of meat that may be available. Cooking middle eastern food requires very little skill. Veggies and meats don't have to be perfectly sliced or served a certain way. Recipes are passed down over the centuries, but precise weights and measures are rarely part of the recipe. It truly is an instinctive cooking.
The Middle East places emphasis on homecooked communal meals, enjoyed with family and friends. There are always mountains of food, nothing is done sparingly as it is common for family and friends to just drop by for a visit. This overwhelming generosity and hospitality is shown right across the social scale, sometimes even beyond a family's means. Food is usually served on a table or sofrah (a cloth laid out on the floor) and it is common for people to take their food from a communal plate in the center of the table. Rather than using forks or spoons, they scoop up food with their thumb and two fingers or pita bread. Like most Arabs, Faisal does not like dining out. He enjoys making his own simple meals of flat breads, meat lentil stews, homemade yogurt, He amazed me with making flat bread by turning the wok upside down.
Mezze
In recent years, mezze like hummus, taboulleh, baba ghannoush have become common around the globe. Mezze consists of a number of small dishes that are picked at leisure: cheese, olives, nuts, various salads and dips, such as hummus, mutabbal, pickles, and also more substantial items, such as grilled meat, kibbeh (stuffed meatballs), and stuffed vine leaves.
Street Grub
Falafel and sharwarma sandwhiches are the ultimate daily grub, it has become something their street food. A falafel sandwich contains falafel (fried chickpeas) stuffed into pita bread with hummus, tahini sauce and chopped salad.
A commonly know dish is Sharwarma, prepared by grilling meat is on a rotating vertical skewer for long hours. Although it can be served in shavings on a plate with accompaniments, shawarma also refers to a sandwich or wrap (also known as Turkish doner kebab) with shawarma meat, salad and hummus that has become a common street grub everywhere. As it is impossible to have a rotating skewer at home, here are still some replicated recipes that close enough to the real thing like this Chicken Shawarma recipe.
Vegetarian, Grains and Pulses
There still are many distinct culinary heritage that remains unexplored – comforting wholesome stews, exotic casseroles that feeds the masses. Vegetables, beans and pulses are the predominant staple. Vegetables, such as onions and garlic, carrots, turnips, squash, tomato, eggplants, and okra are distinctive elements in the cookery of the region. Beans (fava beans, lentils, haricot beans and black-eyed beans) and pulses (lentils, split peas, and chickpeas) are crucial to the diet of the region. Some easy and comforting recipes include lentil soups, barley yogurt soup, bamia (okra stew) and shakshuka (poached eggs in tomato). 

Poultry & Meats
Mixed grill (cuts of beef, lamb, chicken, liver and other inards) skewered with vegetables (onion, pepper, tomato) is common throughout the region (most people call this as kebab). However, kebab not only refers to skewered cuts of meat, it can be ground meat; it may be served on plates, in sandwiches, or in bowls. A popular Persian kebab is Kebab koobideh (minced spiced meat pressed onto skewers).
Sweets & Desserts
Pots of tea (black tea is boiling tea leaves with water in the kettle) is a must throughout the day. Pastries and sweets are abundant, especially during ramadhan, with varieties like baklava, maamoul (stuffed cookie), fatayeh jebner (cheese pastry), turkish delight, mutabbaq (filo cheese pastry) and sfouf (semolina cake). Faisal once brought back 3kg of baklava and they were gone in within days. I distributed the 1kg he gave me to friends and it took me months to finish the balance of it. Common cooked desserts include mullahabieh (milk pudding) and rice pudding.
Shopping and Ingredients
• Seasonal vegetables (tomatoes, okra, green beans, cauliflower, beets, carrots, peppers, cucumbers), fruits (lemons, pears, pomegranates, apricots), herbs, nuts, dairy products, grains and pulses, common spices and herbs are readily available in most supermarkets around the world.
• Tahini (sesame paste), pomegranate molasses, and bulgur can be found at some health food stores and supermarkets under health/organic section.
• Exotic ingredients like sumac, vine leaves, freekeh, orange blossom water can be found at Ethnic or Middle Eastern grocers. 2 well stocked grocers in Klang Valley are Suria Wholesale at Jalan TAR and  Al Tayseer at Ampang.
Sites and Food Blogs dedicated to West Asian cuisine:
mideastfood.about.com
Taste of Beirut (Lebanese recipes)
Ya Salam Cooking (Gulf recipes)
The Arabic Zeal
In My Iraqi Kitchen
Syrian Cooking
Iran Chamber Society (Persian recipes)
Kitchen of Palestine
The Armenian Kitchen
Sheba Yemeni Food
Turkish Food and Recipes
Nothing Taste Like Jordan
Israeli Kitchen
Emiratican Kitchen
Just prepare a dish be it sweet or savoury, traditional or modern, snap a pic and share it on our page together with the recipe or just the recipe link. We encourage you to try the recipes as close as possible to its original dish in the country. We understand you might not be able to get certain ingredients, there are always other recipes to try out. Please do check the AFF FAQ here.
Let's have fun cooking and most importantly, enjoy yourself. "Kele w nsee hammeek" – Eat and you shall forget your worries.
TO JOIN
1. Who can join? Anyone can join.
2. Prepare a dish (sweet or savoury) that is from West Asia, be it old time favourites, modern goodies or dishes that has been localised. Remember to take photos of the finished product and if possible, the preparatory process as well.
3. Provide recipe that is credited ( from books, internet, friends or family or your own, be specific). Submissions without stating recipe and/or sources will not be accepted for all forms of submission.
4.Submit your entry latest by 1st January 2014.
TO SUBMIT
1.Bloggers
a. Prepare a dish (sweet or savoury) that is from West Asia
b. Blog about it from 1st December 2013 – 31st December 2013.
c. Include the caption below your blog post
"I am submitting this post to Asian Food Fest: West Asia (Link to AFF Page http://wendyinkk.blogspot.com/p/asian-food-fest.html), hosted by Shannon from Just As Delish (Link to this page http://justasdelish.com/asianfoodfest-west-asia/)"
d. Submit your entry via the Linky provided at the end of this blog post 
2. Facebook Users
a. Like the Asian Food Fest Facebook page
b. Prepare a dish (sweet or savoury) from West Asia
c. Take a picture and upload it into Asian Food Fest Facebook page on the timeline.
d. Provide recipe with picture.
Bloggers can submit their previous blog posts on Japanese dishes they have prepared to Facebook, but please state "OLD BLOG POST". Anyone that has made or baked a Middle Eastern dish and have a picture and recipe can submit to Facebook. It does not have to be a recently done dish. These Facebook entries will hopefully provide inspiration and motivation for other folks to cook them.
3. Non-Facebook users and Non Bloggers
Email a picture of the dish together with the credited recipe to (shannon@justasdelish.com) latest by 31st December 2014 by 11.59pm (Singapore & Malaysian time).
A Round Up will be done for all blog entries and emailed in entries on 1st  January 2014. YOU ARE STRONGLY ENCOURAGED TO SEND IN YOUR ENTRIES EARLY DUE TO THE YEAR END HOLIDAY SEASON!
For bloggers, only new entries made in your blog within the stipulated period with complete recipe and/or recipe links/references would be accepted. For non-bloggers, only entries complete with recipe and/or recipe links/references would be accepted.