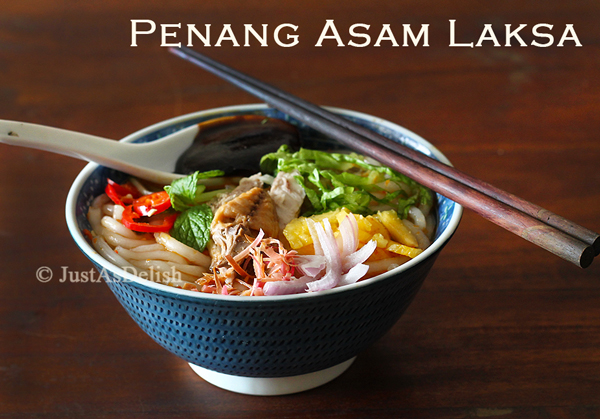 Whenever my 2 sisters go back to our hometown Penang, it's a MUST for them to take a drive to Air Itam for the famous Penang Asam Laksa. Takeaway (the portion is slightly bigger) back to mama's house or even bring a few packets back to Kuala Lumpur. I enjoy asam laksa, it's just I don't crave for that and I don't have the habit of hunting down food. 
Nonetheless, it's just awesome that the spicy, sour, fruity and fragrant Penang Asam Laksa was voted seventh out of 50 most delicious food in the world in a CNN Poll. "Poached, flaked mackerel, tamarind, chili, mint, lemongrass, onion, pineapple . . . one of Malaysia's most popular dishes is an addictive spicy-sour fish broth with noodles (especially great when fused with ginger), that'll have your nose running before the spoon even hits your lips" was how the online lifestyle feature described Penang asam laksa.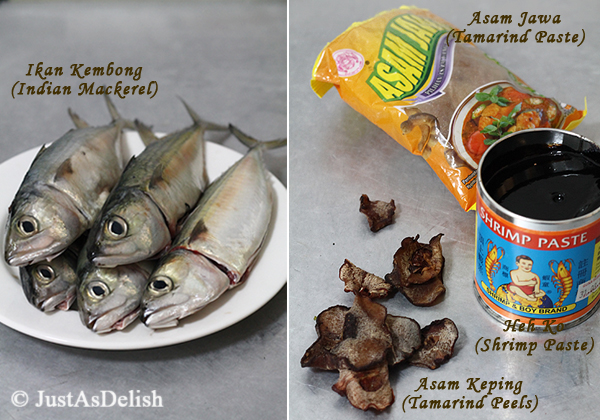 Curiousity got the most out of me when many people told me that asam laksa is an easy dish, just throw everything into the pot to cook the broth. My elder sister remembered mama's delicious asam laksa, but I had no recollection at all. Mama's reply when I called up for her recipe: There's no recipe, just agak agak (estimate in Malay).. a lot of onion, some chili, some taramind juice, and some water.
What do you mean there's no recipe??
Just agak agak.. (estimate)
Sigh..
I know there's many amazing "agak-agak" cooks out there, but I can't agak agak when it's my first time cooking the dish. Luckily there's many recipes online as reference to adjust to mama's recipe.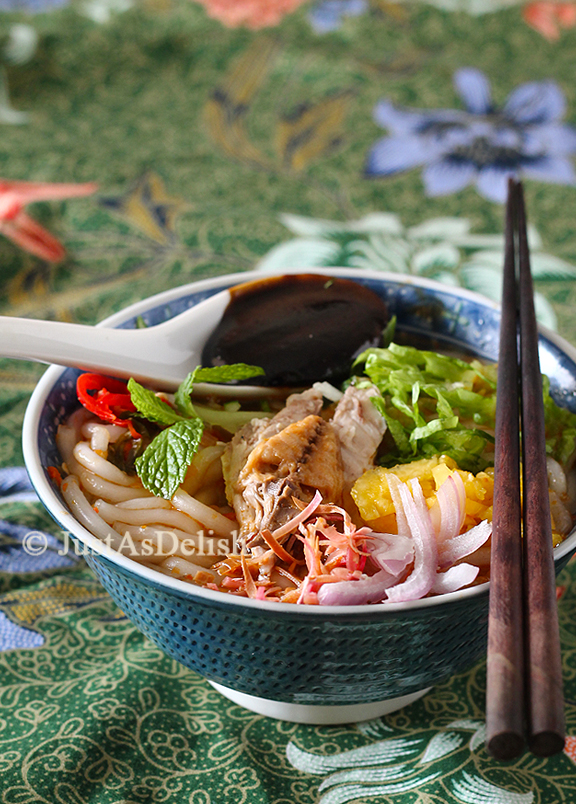 I'm afraid the photo does not represent how the noodles is normally served, I plate it so the garnishing can be seen and end up with insufficient broth. Normally the fish meat will be shredded into tiny pieces and there's much more broth. It should look like Season of Spice's beautiful laksa. When I wanted to retake another photo, the laksa is all gone!
For a 1st trial, the laksa broth is quite good, but it's not even close to the famous Air Itam asam laksa. My sis and I can't quite pin point what it is. Note to self: Remember to ask mama to cook this next time I visit her, time to watch the agak agak queen in action!
I am submitting this post to Malaysian Food Fest, Penang Month hosted by Alan of Travellingfoodies

Asam Laksa
Penang Asam Laksa - a Malaysian popular dish of addictive spicy-sour fish broth with noodles, flaked mackerel, tamarind, chili, mint, lemongrass, onion, pineapple
Author:
Adapted from Mama's recipe
Ingredients
Spice Paste
Tamarind Juice
Garnishing
Instructions
Clean the fish, remove scales and guts.
Extract the tamarind juice by using your fingers to squeeze the tamarind paste with ½ of water. Strain the tamarind juice and keep the seed. Repeat another time with the rest of of water to make sure you extract all the essence from the tamarind.
Using a blender, grind the spice paste with tamarind juice until fine.
In a pot, bring 2 liters of water to boil. Add in the fish and boil for about 10 minutes. Transfer the cooked fish out into a bowl and let cool. Add the spice paste, the tamarind peel and the polygonum leaves and continue to boil in low heat into the boiling stock.
Wet your hands constantly with a bowl of water, pick the flesh out of all the fish and break the fish meat into tiny pieces. Place the bones back into the stock, boil on low heat for 10 minutes.

Take pot off the heat, strain the fish stock into another pot, then add in fish meat into the stock, cover the lid, and lower the heat. Taste your Asam Laksa stock to make sure it's sour and to your liking. Add sugar and salt to season.
Prepare a pot of boiling water, blanch laksa noodles (with a metal sieve) in the water for 1 minute and drain dry.
Notes
If you are not in Malaysia, refer to Rasa Malaysia's
recipe
for the dry noodle brands sold at Asian Grocery stores