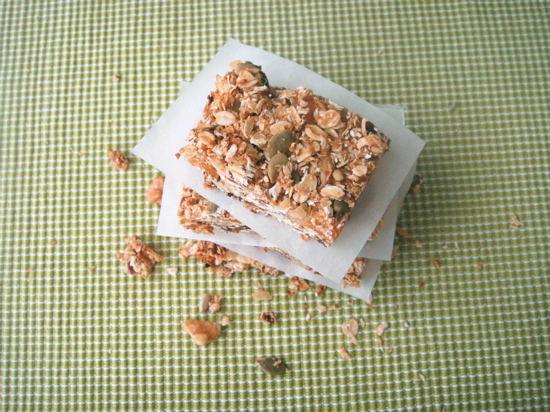 I am back from a short break, mostly playing tour guide to my hometown and stumbled upon very interesting new findings. It wasn't exactly a break, with continous calls from work throughout the few days. Back to work today was like madness with calls and tons of emails to reply. After a long day, now I am able to draft the recipe from last week.. my playing tour guide findings have to wait until my next post.
Whole of last week was SERIOUS snacks craving week, tried 4 experiments on healthy snacks without flour. Some a success and some failed miserably.. Non the less, my taste buds tells me they were good enough to satisfy my sweet tooth cravings – temporarily..
One thing about me is I always tweaked new recipes i havent tried before – which more than often lead to disastrous results. Most of the time, it was because i try new recipes on adhoc moments and substitute 1 or 2 ingredients which I do not have. And these substituted ingredients did not work out the way i thought it would! Non the less, cooking is my way of letting my creative juice flow and the kitchen has become my playground.
The 1st recipe I tried was flourless peanut butter cookie, which i used homemade walnut butter instead. The shapes turn out odd and it wasnt crunchy like the recipe indicated. Taste wise was good, but will try it again and pass my QC before i post.
2nd recipe was No Bake Cookie Dough Bites in my last post, which turn out better than expected.
Next was Flourless Chewy chocolate cookie, which turn out the yummiest but the most disastrous results.. The batter ballooned, merged and the cookies got stuck to the baking paper. Definitely will try again and you will see the post once i perfected this recipe.
Lastly – Granola Bar, which I have been wanting to make for weeks. When I saw Brown Eyed Baker's granola bar recipe, I couldnt resist the temptation any more. During my days in sales, I always have granola/muesli bars stashed in my car to curb my hunger when I was on the road.  My favourite was Uncle Toby's Yogurt Top Muesli Bar – chewy with goodness of yogurt. Granola Bar's ingredients are almost similar to granola (check out my homemade granola recipe). Instead of a loose, breakfast cereal consistency, granola bars are pressed and baked into a bar shape, resulting in a more convenient snack. Granola bars are also called muesli bars, cereal bars or breakfast bars.

For this recipe, I used the basic Granola Bar formula shared by Brown Eyed Baker and mix & match with ingredients I have available. There are five basic components: grains (oats), nuts/seeds, dried fruit, a sticky sweetener and a binder.  This formula is superb!
Basic Granola Bar Formula (from Brown Eyed Baker)
1. Rolled Grains (2½ cups)
Suggestions: Oats, Rye flakes, Barley flakes, etc.
2. Nuts, Seeds & Spices (1 cup)
Suggestions: Almonds, Walnuts, Pecans, Pistachios, Sunflower Seeds, Pumpkin Seeds, Cinnamon, Ginger, etc.
3. Sticky Sweetener (1/3 cup + ¼ cup)
Suggestions: Honey, Agave Nectar, Molasses, Maple Syrup
4. Dried Fruits (1 cup)
Suggestions: Raisins, Apricots, Dates, Figs, Prunes, Cranberries, Pineapple, etc.
5. Binder (1 cup)
Suggestions: Pureed Dried Fruit, Apple Butter, Peanut Butter, Almond Butter, Unsweetened applesauce, etc.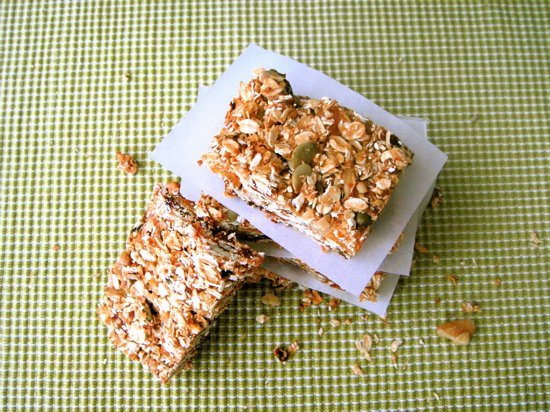 I used Oats, Walnuts, Pumpkin Seed, Apricots, Honey as sweetener and Pureed Dates as binder. I stock up plenty of dates last month during Ramadhan, so I decided to puree the dates as binder, which is same method with the
Larabars
I made. Choose dates that are plump and juicy so it is easier to puree. I think I was too excited when I was making these bars that I left out taking some of the step by step photos..
APRICOT WALNUT GRANOLA BAR
Makes: 8-12 bars, depending on the size you prefer
2½ cups Rolled Oats
3/4 cup Walnuts – chopped
1/4 cup Pumpkin Seeds
1 cup Dried Apricots – chopped
1 cup Dates – pureed in food processor
1/2 cup Raw Honey
1 teaspoon Ground Cinnamon
¾ teaspoon Vanilla Extract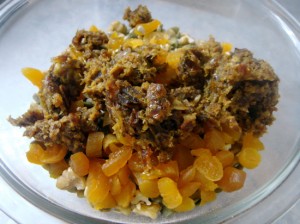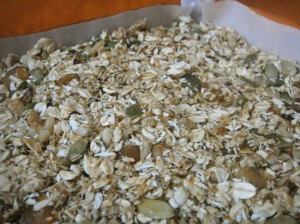 1. Preheat oven to 350F. Line the 8×8-inch baking tray with baking paper.
2. In a large bowl, mix honey, pureed dates, ground cinnamon and vanilla extract. Stir in the rest of the ingredients, making sure that it is evenly mixed and all of the oats are moistened.
3. Pour the mixture into the baking tray and press down firmly with a metal spoon, making sure it is tightly packed.
4. Bake for 25 minutes. Remove from the oven and cool in the freezer until the bars are firm, at least 1 hour. Remove from the pan and cut into bars. Store in an airtight container or in the fridge for up to 1 week.
Note: The dates I bought were dry and it was a bit tough to mix the pureed dates with the other ingredients. I had to use my fingers to make sure all are combined well. Next time I make these, I am going to try heating up honey & pureed dates on low heat until the dates are softened.  
Still have snacking cravings? check out my other recipes:
Rice Cracker – full of herbs & spices
Walnut Larabar – perfect for pre & post workout