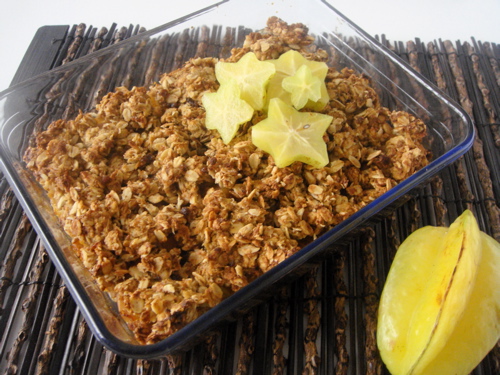 I love fruit crumble, especially my Apple Pear Cranberry Crumble, but not loving the butter in the crumble topping. So every time I made them crumbles, I tweaked the recipe bit by bit until I have this combination – Butterless Spiced Crisp. I use the name crisp because it gives the dish an elegant ring to it.
Making tons of granola got me thinking crumble and granola is almost similar. So why not substitute butter with olive oil to make it crispy? Other tweaked ingredients are substituting with half rice flour and sprinkles of spice. I think I've become a spice addict – especially cumin & cardamon, any food that I sprinkle with spices seems to give them an extra kick.
The crisp is quite easy to put together, can be made days in advance and keep in the fridge. Sprinkle them over any seasonal fruits and bake when you want to serve them. This time I use apple and local star fruits that were ripe and juicy. As the name suggested, the name star fruit must have come from it's shape – when it's cut cross section, it looks like a star.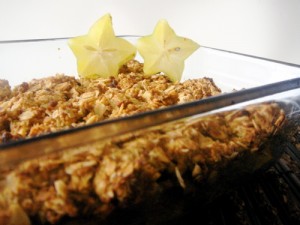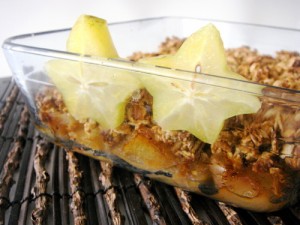 Star fruit fighters getting ready in the ring of crisp!   
Apple Starfruit Spiced Crisp
Healthy fruit crisp - spices like cumin and aniseed with olive oil on crisp gives the fruit an extra kick
Ingredients
30 grams Wheat Flour
20 grams Rice Flour
50 grams Rolled Oats
50g (1/4 cup) Brown Sugar
½ teaspoon Salt
½ teaspoon Ground Cinnamon
½ teaspoon Ground Cumin
½ teaspoon Ground Aniseed (or substitute with the spice of your choice)
40 ml (1/3 cup) Olive Oil
500g Apples (about 3 medium), preferably a mix of red and green apples
300g Starfruit (about 3 medium)
Instructions
In a medium mixing bowl, combine the first 9 ingredients and stir well with a fork, make sure all of the dry ingredients are moistened by the oil. If making in advance, transfer to an airtight container and keep in the fridge.

Preheat the oven to 180°C (360°F).
Peel the apples or you can retain the skin like me. Quarter and core the apples and star fruits, then cut into small chunks.
Arrange the fruit chunks over the bottom of a baking dish (I use is a 20cm rectangle dish) and sprinkle evenly with the crisp topping.

Bake in oven for about 40 minutes, until the apples are tender and the topping golden brown, checking regularly to make sure it doesn't darken too much.
Serve slightly warm or at room temperature and top with fresh fruits.
]
Notes
You can bake the crumble a few hours in advance, and reheat slightly before serving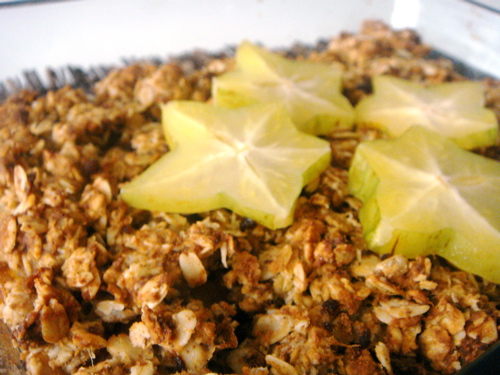 This recipe is submitted to the #applelove Blog Hop for the month of October when bloggers from all around the world gather to share all our yummy apple recipes. Click here to view all the yummy apple recipes.