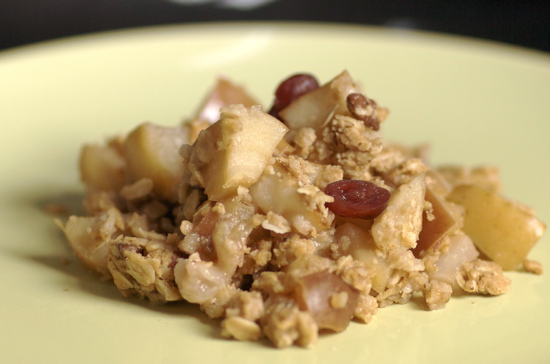 A while back, i bought some huge over ripe pears that were on sale at my neighbourhood supermarket. Not knowing what to do with them, i went online searching. That's my usual behaviour – buy ingredient first, then search for recipes and try out immediately. Yes, you might not find it impractical, but to my surprise, my ad hoc cooking turns out some delish results and also new learning experiences. As i scout the search results, i only click to read the ones that makes my heart goes Yea that's easy and delish!
The recipe Apple pear cranberry crumble caused my heart to skip a beat and goes Yea this is the one! The recipe is easy yet the dessert looks like restaurant quality and it does impress friends at dinner parties 🙂 I use Gala Apples (Red Sweet & Sour) instead of Granny Smith because i don't quite like Granny Smith (my personal preference). You can use different varieties of apples of your choice. The sweet soury taste of the apple blends perfectly with the sweetness of the pear. A tip to shorten the preparation time: I skip the peeling of the apples & pears, I just cored and cut into chunks. They taste good with the skin too.
During my first trial, I bake it these cute egg tart moulds, don't they look cute? i found sugar amount makes the dessert a bit too sweet.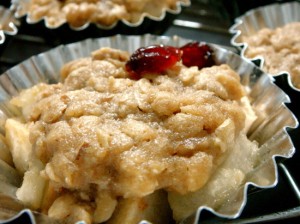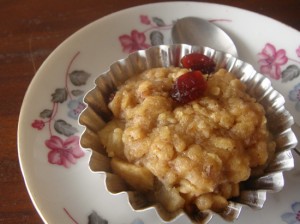 I eliminate sugar in my 2nd attempt and the fruits' natural sweetness works well too. Perfect for people like my mama who dont take sugar – making this a guilt free dessert. Hmm.. Come to think of it, actually this dessert can be a wonderful midday snack too!
Everytime i made this crumble, i couldnt get enough of it. It is oh so good when served warm from the oven with a scoop of vanilla ice cream. Last week when i delivered a freshly baked batch for friends, the smell of the fruits and crumble in car is unbelieveably delish! Made me wanna stop the car and finish it!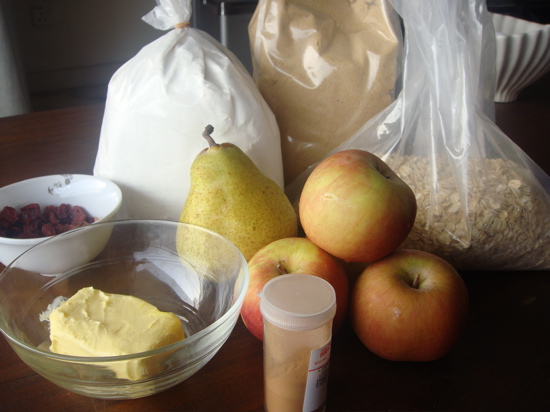 Crumble Topping:
3/4 cup all purpose flour
1/4 cup brown sugar
1 teaspoon ground cinnamon
1/2 teaspoon salt
1 cup old-fashioned rolled oats
1/3 cup chopped walnuts or pecans
1/2 cup cold unsalted butter, cut into pieces
Filling:
2 tablespoons brown sugar
1/2 tablespoon cornstarch(corn flour)
6 cups Granny Smith / Gala Apples or other firm apples – peeled, cored, and sliced into 2.5cm or bite-size chunks
6 cups ripe Pears – peeled, cored and cut into 2.5 cm or bite-size chunks
1/2 cup dried cranberries
1. Preheat oven to 375 degrees F (190 degrees C) and place rack in the center of the oven. Butter a 8×8 baking tin, or a 10 inch (25 cm) deep dish pie plate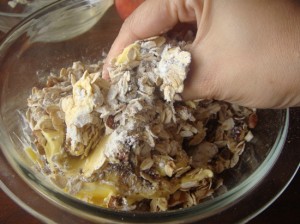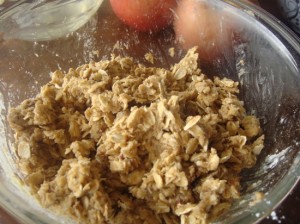 2. For Crumble Topping: Place all the topping ingredients (flour, sugar, cinnamon, salt, oats, nuts, and butter) in a large bowl and mix with your fingertips until the mixture has clumps the size of peas. (All the ingredients can also be process in a food processor until mixture has clumps the size of peas)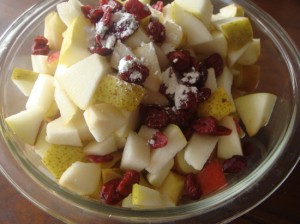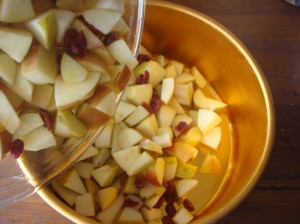 3. For Filling: In a large bowl, toss and combine apples, pears, cranberries, sugar and cornstarch (corn flour). Once thoroughly combined transfer to the prepared baking dish.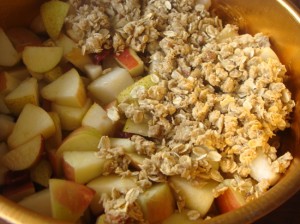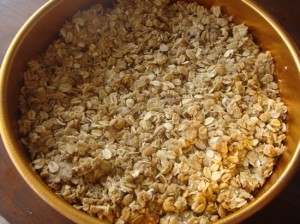 4. Spread the topping evenly over the fruit.
5. Bake for approximately 35 -45 minutesor until bubbly and the topping is golden brown and crisp. Remove from oven and place on a wire rack to cool for at least 15 minutes before serving.
6. Serve with softly whipped cream or vanilla ice cream. Refrigerate leftovers and reheat before serving.
Makes about 6 servings.