WELCOME TO JUST AS DELISH!
Just As Delish is all about nourishing our body with Real Food, Eating Clean and Natural Home Remedies, so we are consistently satisfied and energized to live life to the fullest! The site's mission is to empower others take charge of their health through real food and consuming nutrient dense food at its most natural state, free of chemicals, preservatives and additives. It doesn't matter if you're totally new to preparing your own food, as there's a lot of really simple recipes (some I wouldn't even call them recipes, just as easy as putting fresh ingredients together!). And most importantly, enjoy the process of nourishing your body.
There are over 250+ healthy omnivorous & healing recipes with an occasional decadent twist, findings, and endeavors with natural remedies. Most of the recipes are with a global taste, big bold flavours made with fresh seasonal tropical ingredients. A number of the recipes are gluten free and dairy free due to my personal intolerances.
ABOUT SHANNON LIM-DE ROOY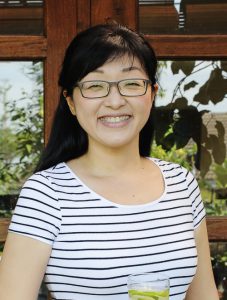 As far as I can remember I LOVE FOOD my whole life – EATING that is. I could talk, think, dream, sleep, watch, breathe FOOD whole day! Growing up in Penang, the food capital of Malaysia, plays a big part of this influence.
In 2009, attending an ayurvedic talk made me realised how much junk i put in my body. Busy lifestyle and hectic schedules in metropolitan Kuala Lumpur did not help, it was easier to have pre-prepared processed food on standby and eating out is pretty CHEAP. I was always eating on the go then, sometimes my lunch was just munching a plain bread or crackers in the car. Being constantly stressed out, I would indulge in cookies, ice cream, chips, as a 'reward' to myself. Little did I know that those quick processed food fill my hunger, but does nothing to my body. In fact, they were causing a lot of damage to my body. I was constantly fatigue, low energy with crazy mood swings. I had began eating clean and cooking more often, but it was too late. My body finally took its toll the following year. Sleeping 12 hours or more a day wasn't enough and I couldn't work full time.
To fulfill my Love To Eat, I began my quest in to learn preparing food from scratch and I've been hooked since.  After starting this blog, kitchen become my playground to experiment and be creative. Not having the patience for long hours of food preparation, I always look for easy recipes or simplify the recipes that I found. Discovering how simple it is to produce delicious and wholesome food really make my day.
I became incredibly passionate about understanding what is in food – how it is grown, what chemicals are used in its production, and what eating food does or doesn't do for the body. As I let go of many unhealthy habits that created my highly stressed-out life, embracing a simple minimalist life helps me heal tremendously. I firmly believe in letting the body heal itself, always exploring various natural remedies to nourish the body and mind.
Many would come up to me and say "Oh poor you". NO, falling sick is the best thing that has happened to me. And I'm grateful it happened in my early 30s, as my body could still recover fast and I'm still recovering. That period totally changed my life. it was a big wake-up slap that my life was totally out of balance, my priorities then were stressing my body and mind. It was during the darkest time that I found what truely is important and makes me happy.
Over the years of weight and health issues (even before I fell extremely sick), I had my fair share of dieting experiments – no carb, ayurvedic, raw food, blood type food plan. My conclusion: No dieting or food plan works better than eating Real Food and listening to your body on what works and what doesn't.
STAY IN TOUCH
I love hearing from you and to support each other's journey. Do drop me a message and get connected!
You can also find me on Facebook, Google+, Twitter, Instagram and Pinterest, where I post useful information, food I cook daily, and inspiring thoughts.
WORK WITH ME

Do you represent a food brand or media? Hire me to help you create meaningful content and campaigns to promote your brand and grow your business.
Please note that I am a full-time freelancer. I work for compensation and not exposure, product or links. I am available for selected projects in the following areas:
1) Writing / Recipe Development / Food & Props Styling
I've created content used in food magazines, websites and blogs for companies like CED Organic, QBB Ghee, !nourish Magazine
Services offered: recipe development, photography, food and props styling and hire, blogging, and social media consulting.
2) Brand and Product Promotion
I've created content on my blog and social media platform for brands like FIJI Water, Lee Kum Kee & Nutriplus.
Services offered: Sponsored post on Just As Delish, social media mentions, recipe development.
3) Cooking Demonstration / Class / Presenter
I have conducted cooking demonstration for Body Perfect and NTV7, and personally conducted various cooking and raw food classes. I've spoken at conferences and to non-profit organisations.
Services offered: Cooking demonstration, recipe development, presenter, health talks
4) Company Events / Brand Events
I am available to attend selected events that I think are a good fit for this blog. Please note that I live in Kuala Lumpur, Malaysia, but am happy to travel for special events.
DISCLOSURE
Any working, commercial or personal relationships that may influence what you read on Just As Delish will be fully disclosed. Any instances of the following will be clearly identified:
Advertising;
Sponsorships;
Products or services that have been gifted or provided gratis
Complimentary meals, tickets or experiences; and
Material that may present a conflict of interest.
DISCLAIMER
All posts and information provided within this blog is for informational and educational purposes only, and is not to be construed as medical advice or instruction. No action should be taken solely on the contents of this website. If you believe you need in depth medical attention, see your health practitioner. While I am a well researched writer and explorer, I am not a naturopath nor doctor. You need a range of good peeps in your corner. I have a naturopath and an osteopath.
COPYRIGHT
Just As Delish Images by Shannon Lim is licensed under a Creative Commons Attribution-NonCommercial-ShareAlike 3.0 Unported License. If you want to use my images or recipes please let me know and provide a link to credit my work.