When I was invited to an event hosted by United States Potato Board (USPB), I was very intrigued by the content of the invitation letter  –  Discover the endless possibilities in preparing colourful US potatoes.  I could easily count the potato recipes I have with 1 hand, therefore I looked forward to discover what else I can do with these nutritious tubers. As Malaysians rely mainly on rice and noodles for carbohydrates, we do not use much of potatoes in our daily diet.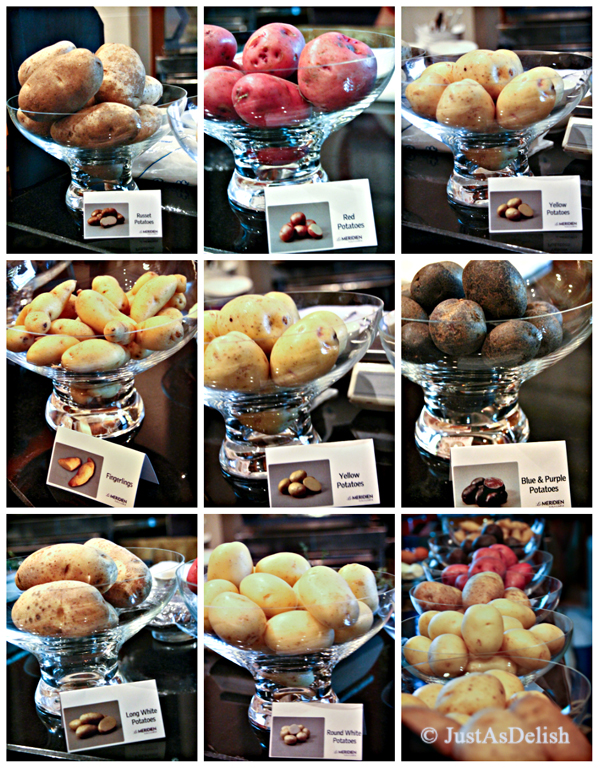 The minute I enter the Grand Salon at Le Meridien KL, I was entralled by the unique display of colourful potatoes as table decor. I felt like "katak di bawah tempurung (Malay proverb: like someone who has not seen/know anything out of their own small world)" when I saw so many types & colours of potatoes for the 1st time in my life. (Or maybe I might have walked pass them). I have to admit that my knowledge about potato was only limited to yellow potato and russet potato (this I know is best for mashed potato).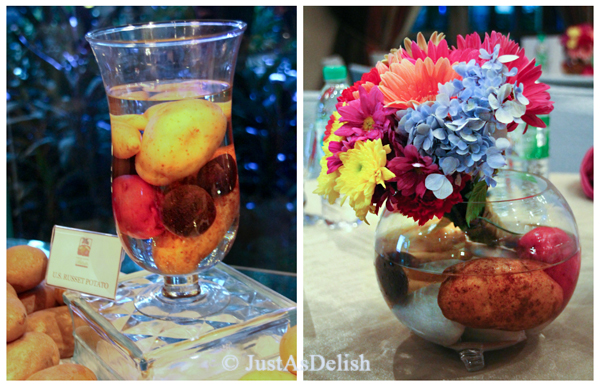 While waiting for the event to start, we were served with a variety of eye-catching canapes made with the various varieties of US potatoes.  They were the US blue purple potato dumpling filled with spicy coconut prawns, three coloured US potato vichyssoise (chilled potato soup), round US potato case with chicken rendang and US potato chawanmushi. I love how potatoes were creatively incorporated into Asian dishes. I found the potato dumpling served in the warm coconut milk to be a delight and it's quite similar to one of our local kuih. What tickled me further is that these delightful nibbles are easy to prepare, just my type of cooking.
According to Health and Wellness Expert Carina Lipold, potatoes are rich in fiber, vitamins, minerals, phytochemicals, low in calories and have a high satiate index at the same time. A medium sized potato (about 150g) steamed and eaten with skin, provides up to 48% of a person's daily recommended intake of Vitamin C, more potassium than a banana as well as other important minerals. I'll definitely be on the look-out for coloured potatoes as they have higher fiber content, higher dosage of vitamins, minerals and higher antioxidant level.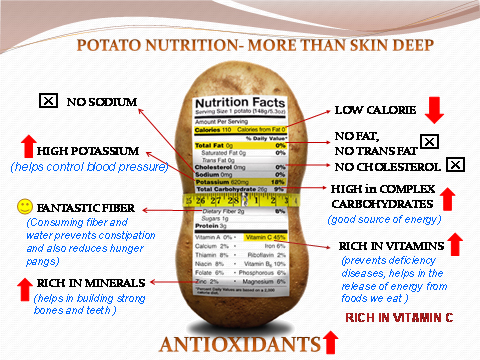 The best way to maintain the potato nutrients is to wash short (don't soak), peel thinly or cook with peel.  Best of all, potatoes are complex carbohydrates and has lower calories compared to rice, pasta or banana.
Le Meridien's Executive Chef Antoine Rodriguez demonstrated 3 delightful dishes – US Potato Cake with Garlic Chives Cream Sauce, Roasted US Potato with Provencal Herbs & Chili Flakes, and US Yukon Gold Potato and Cheese Croquette with Chili Tomato Smoked Dip.
I tasted the croquette right out from the fryer at the demonstration table, and it was crunchy on the outside and the inside melted in my mouth. The one served to my seat has cooled down and texture is different, so this croquette must definitely be served immediately if prepared at home.
After the demonstration, dinner is served. I love this Clam Chowder, it's light and flavourful.
Who could resist this perfect scallops with fluffy truffle mashed potatoes? I particularly liked how well the pesto sauce goes with the mashed potatoes.
This turkey terrine dish would be a great Thanksgiving dish.
And the dinner ends with US Russet potato chocolate cake.
This has indeed been an educational & a delightful culinary Friday night for me. Thank you US Potato Board for hosting such an eye-opening discovery to the endless possibilities of US Potato. Also special thanks to Jamie of EverQuest Sdn Bhd for the invitation.