Semi-Finalist of Nutriplus Baking Competition (2012)
Finalist of Asian Food Channel Foodie Face-Off 2013 Kuala Lumpur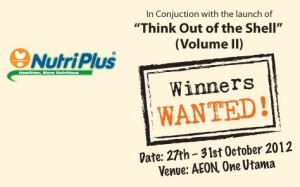 As far as I can remember I LOVE FOOD my whole life – EATING that is. I could talk, think, dream, sleep, watch, breathe FOOD whole day!
In 2009, I started realising how much junk i put in my body. Busy lifestyle and hectic schedules did not help, it was easier to have canned and frozen food on standby. I was always eating on the go, sometimes just grab a bun to munch in the car. Little did I know that those quick processed food fill my hunger, but does nothing to my body. I was constantly fatigue, low energy with crazy mood swings and my body finally took its toll in 2010. After suffering some serious health issues, I became incredibly passionate about understanding what is in food – how it is grown, what chemicals are used in its production, and what eating food does or doesn't do for the body.
My realization led me to slowly increased my intake of real food that grows from the earth, like whole grains, fruits and vegetables, rather than pre-packaged meals-in-a-box. To fulfill my LOVE TO EAT, I began my quest in 2011 to learn preparing food I love to eat and I've been hooked since!  After starting this blog, kitchen become my playground to experiment and be creative! Discovering how simple it is to produce delicious and wholesome food really make my day.
I'm just a gal who absolutely love eating. I picked up cooking from watching my mama and I started cooking during my university years, mostly Chinese stir fry dishes. I pick up other cooking skills from watching cooking shows, and trial and error (oh boy I do have my share of errors!).
Not having the patience for long hours of food preparation, I always look for easy recipes or simplify the recipes I found. This blog is for me to share my journey (ups and downs) and tried & tested recipes. Living in a cultural Asian melting pot, you will find my recipes ranging from my Chinese roots to European to Middle Eastern. I love trying out food from different countries to enables me understand other culture better.
I'm here to share QUICK & HEALTHY RECIPES with real food, that is JUST AS DELISH! I believed that the time and effort you spend in making food for others is a labor of love, so in my blog I hope to show you how to make your favorite foods healthier for you and the people you care for.
I love hearing from you and to support each other's journey. Do drop me a message / mail / get connected.
You can find me at http://www.facebook.com/justasdelish/
Connect with me at https://plus.google.com/+ShannonLim/
You can follow me at https://twitter.com/justasdelish/
Follow my pins at http://pinterest.com/justasdelish/
Disclaimer. All posts and information provided within this blog is for informational and educational purposes only, and is not to be construed as medical advice or instruction. No action should be taken solely on the contents of this website. If you believe you need in depth medical attention, see your health practitioner. While I am a well researched writer and explorer, I am not a naturopath nor doctor. You need a range of good peeps in your corner. I have a naturopath and an osteopath.
Copyright
It's not nice to steal. If you want to use my images or recipes please let me know and provide a link to credit my work.
Just As Delish Images by Shannon Lim is licensed under a Creative Commons Attribution-NonCommercial-ShareAlike 3.0 Unported License.
If you are interested in sharing my content, please credit the content: "Recipe Title (linked to the orginal post) by Shannon Lim – JustAsDelish.com."
If you alter a recipe from Just As Delish, please credit the content: "Adapted from "Recipe Title (linked to the orginal post) by Shannon Lim - JustAsDelish.com."
Permissions beyond the scope of this license may be available at JustAsDelish.com.