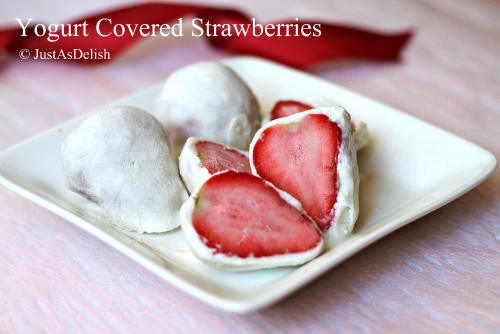 Afternoon Snack: Dip Strawberries in yogurt & freeze, and you get this amazing snack.
Don't these look so delightful? When I saw the photos of these snack here, I had to made them. My thick homemade yogurt (always have a tub in my fridge) is perfect for these delightful snack. Check out how easy to make homemade yogurt here.
♥ Dip the strawberries in vanilla yogurt (add some vanilla essence into the plain yogurt), place them on a parchment paper and freeze for about 30 minutes to 1 hour. (To get thicker yogurt, drain yogurt with a muslin bag and hang to drip for 2-3 hours in the fridge. What's left in the muslin bag is thick yogurt like the greek yogurt).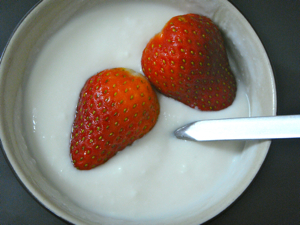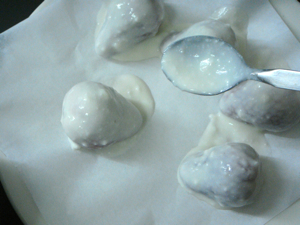 ♥ If you prefer a thicker layer of yogurt, dip the frozen strawberries in the yogurt for a 2nd layer and freeze again. Repeat again for a 3rd layer.
♥ Voila: Yogurt-covered strawberries!
In case you haven't already noticed, strawberries have a natural heart shape. Even though you might have been bombarded with valentine overload by now, you might as well take in another cute heart shape image. And check out the amazing arrays of romantic, aphrodisiac, swoon-inducing recipes at Katherine Martinelli's Valentine Blog Hop.
I am just feeling so much love in the air , so much love around me.. especially from my readers, for all your support. Thank you thank you thank you! I'm sending all my love to you! Happy Valentine to you!